Whenever you want to install a durable and attractive floor in your home, vinyl flooring and laminate flooring are the competitors.
They may look the same from a distance.
But are they?
And this is the reason you are here to find vinyl vs laminate flooring pros and cons.
Vinyl and laminate flooring both are the best options for home flooring and commercial flooring but you have to choose between both of them.
Obviously, not easy.
Don't worry you are at the right spot because in this guide you'll find the answer to your query and after reading this ultimate guide on vinyl vs laminate flooring pros and cons you will be able to pick the best one for your place.
But we will not directly jump to a conclusion, first, you should know about both vinyl and laminate flooring.
It will allow you to make a perfect decision while comparing both in detail.
So, let's start!
Vinyl Flooring?
Vinyl flooring solid core is topped with a printed vinyl layer and it is made of multiple layers that build a durable and long-lasting floor.
These materials are used to enhance the floor's look, moisture resistance, heat resistance, and more. Vinyl flooring may look limited in choices but for an attractive look, it has been upgraded to a variety of styles and patterns.
You can choose from many types of vinyl flooring.
Here are some types of vinyl flooring.
Types of Vinyl Flooring
Luxury Vinyl Plank
To mimic the hardwood floors vinyl flooring is here in the form of vinyl planks. With all wood grains, textures, and colors it has a large number of varieties.
While on the other hand, it is much better than a hardwood floor in water, heat, and stain resistance.
Moreover, the luxury vinyl plank floor is a multi-layer flooring.
Vinyl Sheet
The vinyl sheet flooring is an ideal option for large areas with sheeting rolls. Usually, people laid down it over existing old floor surfaces like wood, cement, tile, etc.
To resist scratches, spots and marks inlaid vinyl is a highly recommended flooring option for a place with high traffic such as a commercial place, office, or hallway.
Luxury vinyl tile
With endless design varieties and a large number of colors, sizes, and patterns, the luxury vinyl tile is made to resemble stone tiles.
Vinyl tile flooring is more suitable for small areas because it is easy to install and maintain. Even you can replace a damaged section as well.
WPC vinyl
WPC stands for a wood-plastic composite that is engineered and a type of luxury plank flooring. But a WPC vinyl is thicker than other traditional vinyl floorings with a standard vinyl top layer.
Instead of solid PVC backing, the WPC vinyl is manufactured with wood-plastic composite backing.
But don't worry it has similar look to a laminate. So, feel free to choose.
Rigid Core vinyl flooring
Rigid core vinyl flooring is similar to luxury vinyl plank flooring. But with a unique resilient core layer that makes it more durable and hard-wearing as compared to luxury vinyl planks flooring.
Resale Value of Vinyl Flooring
If you're thinking of installing vinyl flooring in your home, you might be wondering about its resale value. After all, you want to make sure that you'll be able to recoup your investment if you ever decide to sell your house.
Luckily, vinyl flooring has a very good resale value. In fact, it's often seen as being even more valuable than hardwood floors. This is because vinyl floors are extremely durable and easy to maintain.
They're also much more affordable than hardwood floors, which makes them a great choice for budget-conscious homeowners.
So if you're considering installing vinyl flooring in your home, rest assured that it will have a positive impact on its resale value.
Pros of Vinyl Flooring
Waterproof
Vinyl floorings types with waterproofing are WPC, stone plastic vinyl, and rigid core vinyl.
The major advantage of vinyl floorings like wood plastic and WPC vinyl is completely waterproof. A home with naughty children and pets has to face the spread of water in the rooms, hallways, kitchen, and other areas.
Usually, when water sits on a floor for a long time, it damages the floor surface, especially a wood floor surface.
But the vinyl floorings don't absorb water and stop it from going inside the surface.
Attractive look
It is the most important thing that how a floor looks after all look does matter and it gives the first impression to a visitor. So, the vinyl floorings are available in a large variety of wood styles.
But the most commonly used wood style is oak. It is also available in mahogany and cherry wood styles.
You can pick any as your desire.
Easy DIY Installation
Installation could be a difficult thing if you want to install a floor surface by yourself. But not in the case of installing the vinyl flooring.
Because you can easily install heavy-duty vinyl without using adhesive. And for cushioned vinyl, you need to glue it around the edges and joins.
You simply need to make the floor flat and smooth, cut the vinyl flooring, lay it down, roll out the craft paper, apply the double stick tape and roll back the vinyl.
You are done!
Durable and Long-lasting
Durability is the most considerable thing whenever we talk about installing any type of flooring because it saves you money and you don't need to worry about replacing the floor after a short amount of time.
So, vinyl flooring is better than durable and long-lasting flooring. Things that damage a floor are usually heavy stains, water, temperature, dirt, and many others.
Vinyl flooring has the power to resist all these things with easy cleaning.
Less costly
Most importantly vinyl flooring is less costly than real hardwood. You can install quality vinyl flooring for $3 to 4$ per square foot.
While on the other hand, a hardwood floor rates $12 per square feet that is three times more than vinyl flooring.
Cons of Vinyl Flooring
Lower Resale Value
Because of 100%, synthetic material vinyl floorings lead to lower resale value as compared to other hardwood floors. But if you don't want to resale then this won't be considered to your disadvantage.
Heavy appliances can damage easily
Moving heavy home appliances from room or room to room is a normal thing. But with vinyl flooring, this would be costly because this will cause dents and scratches on the surface.
Laminate Flooring?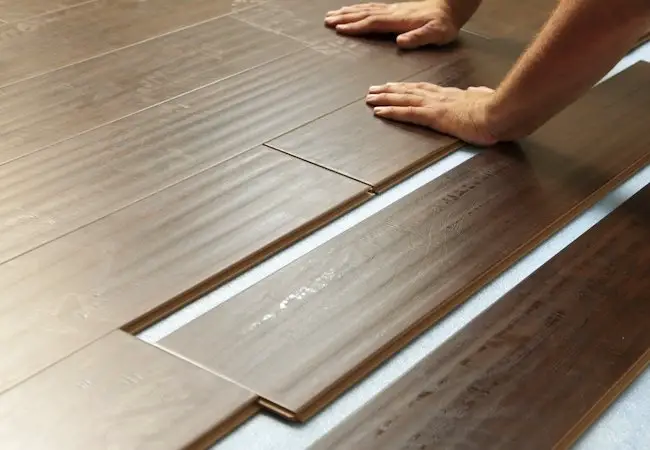 Laminate flooring comes into the market around 1970. Earlier it was considered a fake wood pattern flooring. Because it looks like a real wood floor.
But with the passage of time, they got popular, and now in the 21st century laminate flooring is considered a modern, durable, and affordable flooring option.
Homeowners who like the style of hardwood but can't spend a lot of money on buying real hardwood can have laminate flooring with an authentic wood floor appearance.
The Statista research department reveals that laminate flooring sales in 2020 only in the United States were around $947 million dollars.
And it is gaining more popularity in 2021 as well.
Types of Laminate Flooring
Textured Laminate
To mimic the different natural surfaces such as raw silk, stone, Nappa leather, and many others, this type of laminate flooring is known as textured laminate flooring.
It is best for all areas in the home instead of a place like a kitchen because it is difficult to maintain when it traps a lot of dirt and grime, especially oils.
PVC finish Laminate
This laminate flooring is highly suitable for high-moisture areas like bathrooms and kitchens because PVC-finish laminates are fully moisture-resistant.
Moreover, they are easy to clean and maintain.
Because of its high durability and waterproofing resistance not only in the bathrooms and kitchen, you can install it anywhere in your home you want to.
HPL and DPL Laminate
The HPL (high-pressure laminate) is made under 1000 pounds of pressure and for a high-traffic area, this type of laminate flooring is more suitable.
While on the other hand, DPL (direct pressure laminate) is made under 500 pounds and is more suitable for areas with lower traffic because DPL is less durable as compared to HPL.
Matte Finish Laminate
The most preferred laminate flooring is good water-resistant, scratched, and dust resistant. It is also used in areas like the kitchen and other carpentry works because of its high durability and moderate reflective surface.
Resale Value of Laminate Flooring
Resale value is important when considering any home improvement, and laminate flooring is no exception. After all, you want to be sure that you'll get your investment back when it comes time to sell your home.
Luckily, laminate floors can offer a good return on investment, as they are relatively inexpensive and easy to install. Plus, they offer the look of wood floors without the high price tag.
In fact, many buyers are willing to pay more for a home with laminate flooring, as it can increase the value of the property.
So if you're looking for floors that will add value to your home, laminate is definitely worth considering.
Pros of Laminate Flooring
Affordable
You must be looking for a flooring option that could meet both your budget and needs at the same time.
Budget is the most important thing whenever you want to install flooring in your home and everyone wants to save their money.
This is easier in the case of choosing laminate flooring because laminate flooring is cheaper than vinyl flooring and any other type of flooring like real hardwood, stone, or tile.
Mimics wood Styles
With a realistic wood appearance, the laminate flooring has the feel of real hardwood floors on a low budget. There are a variety of styles and designs with real hardwood resemblance.
Comfortabel feel underfoot
With the thicker composition of wood content, laminate flooring feels warmer and soft under the feet. This might be not included as a significant factor in your decision but for many people, it has a big impact when they walk on a laminate floor.
Cons of Laminate Flooring
Less Moisture Resistant
When it comes to moisture the laminate flooring does not perform well. Some types of laminate flooring are water resistant but still, they are not completely waterproof.
So water/moisture can damage it in a serious manner if placed on it for a long time.
Less Durable
Whenever we compare laminate flooring with vinyl flooring unfortunately it has less durability. You have to replace a laminate floor within 9 to 10 years.
If you like to replace your floor after a few years with a new and fresh look, only in that case laminate flooring would be a good option for you.
Things you should Consider
You should consider this section as a buying guide because in this part I am going to share the features that the best flooring should have.
Some qualities are present in vinyl and some are present in laminate flooring. So this part can play an important role and allows you to make a decision easier against your query about Vinyl vs Laminate Flooring, which is better.
Appearance – Look does matter
Vinyl flooring is made of plastic but to give it a realistic look they have used the latest technology while manufacturing. To replicate or mimic the appearance f rea wood it includes different colors and texture variations with different styles and patterns.
On the other side, laminate flooring is made of wood but its design is on top of it. To give it a more realistic look and texture they have used modern printing in its manufacturing.
Vinyl flooring has a large number selection of products. So, vinyl has an edge of laminate flooring if you want a large selection of products.
But eventually, when it comes to the select-only appearance laminate flooring is better than vinyl in the competition of vinyl vs laminate flooring. Because it has advanced printing technology and realistic styles and patterns with amazing colors.
Maintenance and Cleaning
Cost is not only related to buying flooring but also it could increase even after buying and installing a floor.
But how?
The answer is the maintenance and cleaning of a floor.
After spending a lot of money on buying flooring material and installing it you have to spend a little bit more money to maintain it like cleaning, replacing a damaged section, etc.
The vinyl flooring is easier to clean because it allows you to do both wet and dry cleaning. Moreover, because of its long-lasting durability, it won't get damaged easily until you push a heavy home appliance on it.
So, you don't need to replace it at all.
But in the case of laminate flooring, you only can do dry mopping because it does not allow you to do wet mopping. And the reason is laminate floorings are less water-resistant compared to vinyl flooring.
So, you have to face a lot of cleaning and maintenance issues after installing it that ultimately will increase your cost.
That's why the vinyl has a clear edge on the laminate flooring in the cleaning and maintenance part.
Water and Heat Resistant
The major drawback of hardwood floors is they are not waterproofing or water-resistant. If water sits on a hardwood floor surface for a long time it will damage the floor surfaces.
But vinyl and laminate floorings replaced the hardwood floors with their realistic hardwood look.
The good news is vinyl flooring is completely waterproof and heat-resistant. Both water and heat can't damage a vinyl floor surface easily. That makes it more suitable for areas with high moisture and heat levels like kitchens and bathrooms.
While the laminate flooring is less water and heat-resistant. The reason is that most laminate floorings are made of fiberboard core. So, when the water sits on a laminate floor surface for a few minutes or hours the fiberboard core does not resist and it will damage the floor surface.
Now a few large brands produce some waterproof laminate products that will definitely close the gap.
But for now, the vinyl flooring is the winner as better water and heat-resistant in this vinyl vs laminate flooring comparison.
Installation and Cost
Tackle a flooring installation by yourself could save a lot of money on installation costs. So both vinyl and laminate flooring are easier to install.
But which one is easier?
Installation of vinyl flooring requires some extra tools such as installing a peel-and-stick vinyl easier than tongue and groove vinyl flooring.
In the case of laminate flooring, you can install a tongue and groove design even without glue and nails.
So, you can say both are easy to install but laminate flooring is a little bit more easy than vinyl.
When it comes to buying costs, with a slight difference vinyl flooring is less expensive than laminate flooring.
You can buy vinyl flooring from $1 to $6 per square foot but for high-quality laminates, you have to pay up to $7 per square foot.
Long-Lasting
To check how long-lasting is a floor you have to check its durability. The durability of a floor is important because the risk of scratches, dents, and other flaws can be expensive to repair. Sometimes you need to replace the whole floor.
Both vinyl and laminate floorings are attractive to consumers because of their high durability as compared to hardwood floors.
As I told you the vinyl floorings are 100% waterproof, heat resistant, and additionally less likely to scratch. Moreover, you don't need to replace it for up to 20 years.
On the other side, laminate floorings are not completely waterproof and heat resistant and you need to replace them within 10 years.
So, we can assume that vinyl is better and more durable than laminate flooring.
Vinyl vs Laminate Flooring: The Verdict
Both vinyl and laminate flooring have their strengths and weaknesses, and the right choice depends on your specific needs. Vinyl might be better for rooms exposed to moisture, such as bathrooms or kitchens, while laminate may be a great choice for living areas and bedrooms due to its high-end appearance and durability.
Similarities between Vinyl and Laminate Flooring
Less Expensive
If you want to install real hardwood flooring, you have to pay for it. Even if you are buying and installing more affordable softwood options, you have to pay a lot of money.
But in the case of installing vinyl or laminate flooring, could save a lot of money. Because both vinyl and laminate floorings are less expensive than real hardwood flooring.
This is a valuable similarity between both options.
Resmebleness with Hardwood Floor
The other similarity is both look like real hardwood floors. As we told you above hardwood floors are more expensive and not everyone can afford them.
So, if you choose between vinyl and laminate flooring you will get a floor that mimics real hardwood flooring at an affordable price.
Easy to Install
When it comes to installation, everyone looks for a flooring option that could be easy to install. Most of the floors such as hardwood floors, tile, ceramic, and more are not easy to install at all.
But both vinyl and laminate floors are easy to install. You only need to follow a few steps and the installation will be done in less time with no extra effort.
Easier to Clean and maintain
Cleaning and maintaining a floor is important after completing the installation. Because the way you care for your floor will decide its lifespan.
Usually, other floor surfaces like hardwood floors and tile floors are difficult to clean because you need heavy cleaners to clean them such as vacuums and steam mops, etc.
But you don't need heavy vacuums and steam mops to clean a vinyl or laminate floor. The thing you need is a simple microfiber head mop with water to clean them.
But for heavy and old stains, you may need a steam cleaner but still, it is an option.
Key Differences between Vinyl and Laminate Flooring
Cost
The cost of either material will depend on the type you choose, but generally speaking, vinyl is more affordable than laminate. Vinyl planks are especially economical when compared to laminate tiles or planks; they typically cost around $2-$5 per square foot installed whereas laminates often cost around $3-$10 per square foot installed.
Durability
When it comes to durability, laminate is the clear winner. Laminate flooring is composed of layers, so it's extremely resistant to wear and tear from heavy traffic or pets. Vinyl, on the other hand, can scratch easily and may show signs of wear more quickly than laminate.
Materials
Both have different materials. The vinyl flooring is made of 100% polymers with no organic content. On the other hand, the laminate flooring is made of high-density fiberboard that is made of wood.
Waterproofing
Vinyl flooring is completely waterproof but laminate flooring can only resist water or moisture on a limited level and does not have a waterproofing feature.
This is the reason the vinyl floor is easy to clean with wet mopping but laminate flooring is difficult to clean and maintain because it does not allow wet mopping.
Wrap up
I hope you enjoy this comparison article on vinyl vs Laminate Flooring Pros and Cons and now you should be able to decide which one is best for you.
Both are ideal options in different scenarios. In many aspects, vinyl flooring crosses the laminate, and somewhere laminate flooring crosses the vinyl.
But we conclude the whole story in a single sentence:
"If you need a floor with high durability and less cost you should choose vinyl flooring and if you are looking for a floor with great appearance, variations of styles, and patterns you should choose laminate flooring.
For more queries, you can ask in the comment section.
Final Note: It is always recommended that you consult a professional when installing either type of flooring in order to ensure proper installation and avoid potential water damage. Furthermore, be sure to stick to the manufacturer's instructions for the maintenance of these floors to get the most longevity out of them. Thanks for reading!
---
FAQs
How much do I have to pay to install 1000 square feet of laminate flooring?
To install laminate flooring to 1000 square feet you have to pay around $5000 to $6000. This cost is for mid-range laminate. For high-quality laminate, you may have to pay more.
How much do I have to pay to install 1000 square feet of vinyl flooring?
Vinyl flooring costs per 10,000 square feet start from $3000. But same as laminate, if you want to pick a vinyl with high quality you have to pay more money.