If you are thinking of installing luxury vinyl tile flooring at your place, you are in the right spot. Because in this guide I am going to share with you the luxury vinyl tile pros and cons.
Whenever you select a floor you should know about both its pros and cons of it instead of concentrating only on its advantages.
The same thing is in the case of luxury vinyl tile flooring, it has both pros and cons at the same time. With many advantages, it may attract you, while with some problems/cons, you may leave it.
But I am sure the luxury vinyl tile flooring will be an ideal and suitable option with more advantages.
Because it will directly affect the appearance of your home.
Actually, it is not concerned only with appearance but also many other things that matter.
So, let's start with what is LVT.
What is LVT (Luxury Vinyl Tile)
Luxury vinyl tile flooring is a type of vinyl flooring also known as resilient flooring that getting more popular day by day nationwide.
The vinyl flooring is constructed of multiple layers and looks like a real hardwood and stone floor at a low price as compared to a real hardwood floor.
In the multiple cores, it has a polyurethane coating, a wear layer to protect it, a print film layer, a vinyl core, and a tile backing.
The combination of these layers makes it a more durable flooring option.
Same as other floorings luxury vinyl tile flooring also has both pros and cons.
So, let's examine!
Pros of Luxury Vinyl Tile
Resemblance with Hardwood
Many people can't afford real hardwood flooring because it is too expensive also hardwood flooring is difficult to maintain and you have to spend a lot of money for its maintenance and cleaning.
So, to replace the hardwood flooring, they introduced the luxury vinyl tile with a realistic hardwood appearance on a low budget.
Moreover, it often offers the look of real stone and concrete with surface texture as well.
Durability
Luxury vinyl tile is more durable flooring for both home and commercial installations. Most of the vinyl floorings are completely waterproof and the luxury vinyl tile flooring is one of them.
That means it can be installed anywhere in a home, office, and other commercial areas, especially in areas with high moisture such as bathrooms, basements, kitchens, and laundry rooms.
The lifespan of luxury vinyl tile flooring could be up to 20 years with proper care and maintenance. So you don't need to replace it soon which ultimately saves you money from reinstalling another floor.
Multiple Designs Options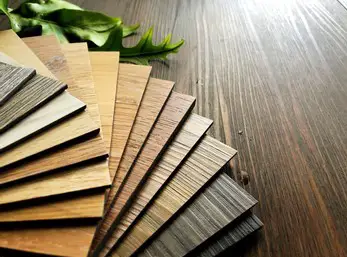 To make it in a wide variety of colors and patterns they have used the latest and advanced manufacturing technology.
The luxury vinyl tile flooring is available in a large number of varieties of colors and designs that mimic real hardwood and stone.
Most importantly the grain pattern in the tile gives a realistic look and feel.
Easy Cleaning and Maintenance
One of the biggest benefits of luxury vinyl tile flooring is its low maintenance. The floor will never need to be waxed, sealed, or any type of floor polish.
And this is because of the protective wear layer.
Avoid using harsh chemicals and detergents to clean it that can damage the floor surface.
You can use a gallon of hot water with one cup of white vinegar to clean it with a microfiber head mop. For deep cleaning, you can use vacuums or steam mops but first, you have to ensure they are safe on the luxury vinyl tile surfaces and won't damage it.
Dry cleaning only requires a dry mop or a duster.
Heat and Moisture-resistant
If a floor does not resist heat and moisture they both can highly damage it. But the story is different in the case of luxury vinyl tile flooring because it is completely resistant to both heat and moisture.
Usually, all types of vinyl floorings are completely waterproof.
This quality makes it more suitable for areas where the level of moisture and heat is high like the kitchen and bathroom.
Moreover, it directly improves its durability and lifespan because it won't get damaged.
Stain and Scratch-resistant
A floor with a quality stain and scratch-resistant could be ideal as a long-lasting pick and the luxury vinyl tile flooring has this quality.
The deep and old stains need a deep cleaning with heavy cleaners and harsh chemicals that can damage the floor surface badly. But the LVT flooring allows you to clean them easily from the surface.
Furthermore, the scratch-resistant quality prevents the floor surface from deep scratches. Until you push a piece of heavy-weight furniture or other home appliances on the floor surface while moving them from room to room.
Easy Installation
Installation is a serious matter when you don't have more money to spend after buying flooring material. Because it takes a lot of money as installation costs if you install it from someone else.
But in the case of luxury vinyl tile flooring, you don't have to pay someone else. You can install it by yourself as a DIY project because it is easier to install.
Some brands use glue or grout while others use locking techniques. No matter which brand you are using, the installation will be easier for you.
Note: Don't worry, in the last of this article I will mention the installation process for luxury vinyl tile flooring as well.
Low Cost/Affordable
The buying and installation cost of luxury vinyl tile flooring is less than other real hardwood and stone tile floors. Even though it is less expensive than laminate flooring it also mimics real hardwood floors.
This is the most considerable benefit of any type of flooring.
Not only luxury vinyl tile, but all vinyl floorings are also less expensive than any other floor materials.
The flooring cost for luxury vinyl tile flooring will be $3 to $11 per square foot including material and labor costs. But if you install it by yourself, you will save $4 per square foot of labor costs.
Your cost will remain at $2 is the minimum and $7 is the maximum cost per square foot.
It may vary with the quality of the material. The high-quality luxury vinyl tiles are a little bit more expensive than the mid-range.
Cons of Luxury Vinyl Tile
Difficult to replace
It may be hard to remove whenever you are looking to replace it. Some types of luxury vinyl flooring are easy to replace like floating and click-lock flooring.
But when you glue down a luxury vinyl tile it becomes more challenging to remove and replace because of adhesive hardness on the subfloor.
Non-environmental
One of the biggest flaws of luxury vinyl tile flooring, this is not environmentally friendly. Whenever you replace and remove it, it will stay in the garbage dumps because it can't be recycled.
So for environmental care, this is a critical factor when making a decision.
Slippery Surface
Water or moisture on a floor surface may lead to slips and fall accidents. No doubt the luxury vinyl tile flooring is completely water-resistant and waterproof.
It will not absorb the water inside the floor surface and it will sit on the surface of a vinyl tile floor until it gets cleaned ultimately leading to slip injuries.
May Dent
Moving heavy furniture or home appliances from room to room or within the room may lead to a dent in the luxury vinyl tile floor surface.
The scratch-resistant surface does not mean it will ever get damaged even by heavy-weighted objects.
Difficult to Repair
Another downside to using LVT is the difficulty of repairs. While damage repair may be relatively easy for ceramic or hardwood floors, repairing LVT requires special tools and skills that not everyone has access to.
As a result, any damage to your LVT flooring may require professional help.
Possible Health Concerns
Some LVT options may emit volatile organic compounds (VOCs), especially when they are new. These compounds can contribute to poor indoor air quality. However, many manufacturers are now producing low-VOC or VOC-free LVT.
Luxury Vinyl Tile Installation
Installation is the most important process and if you don't know the basic installation steps for luxury vinyl tile flooring, it would be difficult for you to install it by yourself.
For DIY installation you need some tools that will help you to finish it well.
Required Tools:
Dust mask, for your safety from dirt and dust
Installation:
Eliminate the old floor
On any type of subfloor, you can apply the luxury vinyl tiles but the floor should be in a good and acceptable condition. If you want to apply it on an existing vinyl it must be in good condition as well.
A floor with damaged areas and bad condition is not ideal for the luxury vinyl tiles installation and it should be removed first.
Prepare the floor surface
After eliminating the existing floor surface you need to fix the other small issues and prepare the surface for luxury vinyl tiles. If you don't want to remove the old one, you have to make sure that the floor surface is stable and clean.
Install Underlayment (Optional)
The next step is rolling out the underlayment. But this step might be optional for you if your existing floor is in good shape.
But a floor with a rough shape must be needed to install 1/4 inch of plywood underlayment over it.
However, for better results, you should install it.
To install underlayment you have another better option which is vinyl underlayment.
Whichever you will install you only need to lay it down, cut it, and tape the seams well.
You are done with the underlayment installation.
Mark the floor for tile setting
Now it's time to mark the floor to set the first tile and so on. Always start tiling by the door side that is the best way. You have to mark the location to set the first tile.
To mark the surface you have to use a luxury vinyl tile.
Spread the glue
It is a crucial step to spreading and adhesive or vinyl tile glue on the surface where you are going to install the luxury vinyl tiles. Because you have to apply it in a suitable quantity.
Don't spread too much that that creates a mess. And also don't spread in a low quantity that can't even grab the tiles.
Use a notched trowel to spread the glue.
To save yourself from being glued into a corner always start spreading from the end of the room and come back towards the door side.
After spreading you have to wait for 20 to 50 minutes and let the glue dry. However, the temperature and humidity can change and affect the drying time.
So, as a hint just remember when the glue changes its color to a lighter color, it will be ready to install the tiles.
Install Luxury Vinyl tiles
After spreading the glue it's time to lay the first vinyl tile according to the marked location that you did in the earlier steps. Lay the first tile and do it so on.
Here are some tips that you should know while doing this luxury vinyl tile installation:
Slide the tiles under trimmed areas.
Use a heat gun and a knife to heat and cut the tiles for curved areas.
To set the position of tiles use spacers.
Use the roller
To set the tiles permanently on the surface, use a 100-lb that helps you to put pressure on tiles to place them accurately on the surface. Roll all the surfaces two times at least.
If you don't have a 100-lb roller you can also use a rolling pin or a laminate roller. But they are not more recommended than a 100-lb roller.
Because they don't provide enough pressure to set the tiles permanently.
But still, they are also working for it.
Grouting the floor
Use a rigid rubber float to spread the grout into joints. For vinyl tile flooring, sanded acrylic grout is best because it is highly stain-resistant and won't create a mess on the surface.
Avoid using cement-based grout, it is crackable and will create a mess on the surface.
Related Topic: Vinyl vs Laminate Flooring Pros and Cons: Ultimate Guide
Is Vinyl Flooring Good or Bad?
Every flooring option has both advantages and disadvantages because it is nearly impossible for one flooring option to be suitable for all types of surfaces, environments, and surroundings from every aspect.
The same is in the case of vinyl floorings they have a good side and a bad side that depends on different factors.
But as a result, you can say vinyl floorings are a good option. They are one of the safer floorings that are more comfortable underfoot.
Conclusion
In conclusion, luxury vinyl tile is an attractive and durable flooring option that can provide years of use without needing repairs or replacements. Its versatility makes it easy to find the perfect look for any space and its installation is relatively simple.
However, LVT can be quite expensive and the surface can be slippery if not properly treated. Additionally, repairing any damages may require special tools and skills which not everyone has access to.
Ultimately, the choice between luxury vinyl tile and other flooring options boils down to personal preference.
Weigh out the pros and cons before making a decision to ensure you're getting the best value for your money.
---
FAQs
What material is used to manufacture luxury vinyl tiles?
The modern luxury vinyl tiles are made of colored polyvinyl chloride that is 100% waterproof as compared to other floorings like laminate and hardwood floorings.
How long does a luxury vinyl tile floor last?
All the vinyl flooring types are highly durable and the luxury vinyl tile floor is one of them. Its life expectancy is between 15 to 20 years. It may vary according to the material. The high-quality vinyl tiles can last up to 20 years.
In which areas I can install luxury vinyl tile flooring?
As I told you vinyl tile flooring is more durable than hardwood and laminate flooring. So, you can install it anywhere in your home, office, store, commercial areas, areas with high moisture, and areas with high foot traffic.