Flooring forms the foundation of any interior space, shaping its character, aesthetics, and functionality. The type of flooring you choose can either elevate or diminish the overall impression of the room.
With a plethora of flooring materials available in the market, each offering a unique blend of style, durability, and cost, choosing the right one can be a daunting task.
This guide aims to explore seven different types of flooring materials, shedding light on their benefits and shortcomings, to help you make an informed decision.
So let's start with how to choose a flooring material.
Buying Guide: How to Choose a Flooring
It's more complicated when choosing the flooring material because it is not just about finding good-looking but also various other factors like moisture, durability, cleaning, installation, and budget.
There are some most important questions you should ask yourself before selecting a floor type.
High moisture area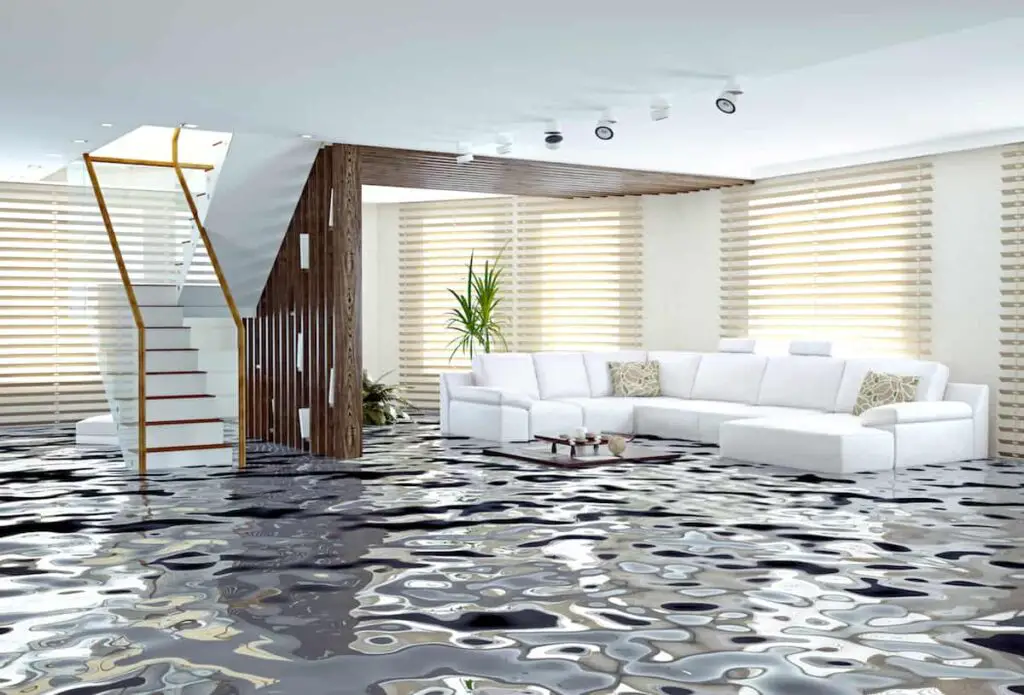 The first thing you have to make sure of is that will you need to install a floor in a high moisture area.
If yes, then you have to install a floor that is reliable and suitable for a high-moisture environment. You can choose one from different flooring types like Vinyl tile, porcelain tile, concrete, or ceramic tiles.
Pet-friendly Floors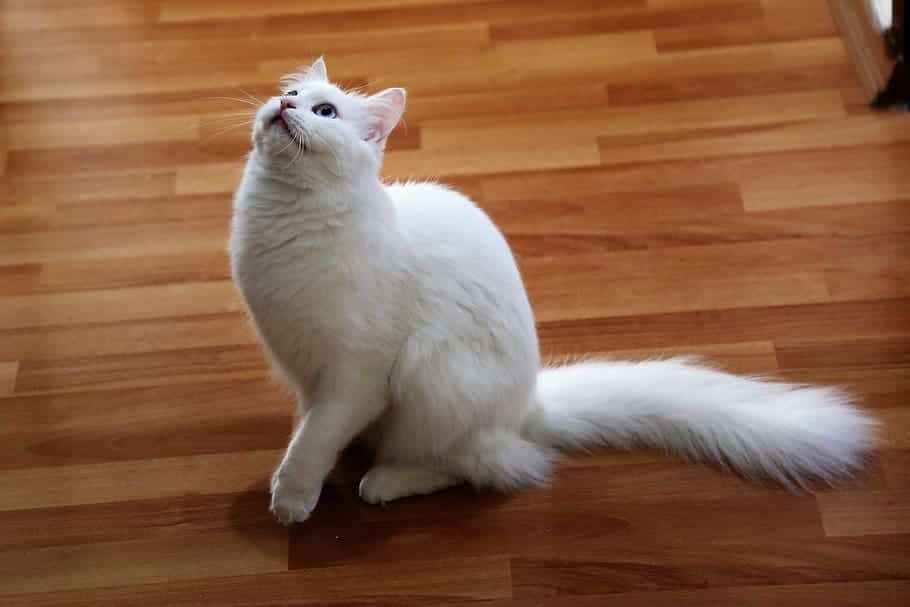 Are you a pet lover? If so you need a superior wear-resistance floor. Because many floors like site-finished solid hardwood scratched easily by pets.
So you can choose durable and suitable floors like plank vinyl floor, carpeting, or laminate flooring.
Consider the Style: Colors, Patterns, and Textures
A floor plays an important role to increase the beauty of a home. Fortunately, all flooring materials in this guide have multiple colors, patterns, and textures. That means you have multiple options.
So, you have to decide which one will more appeal to you. Because your choice would be different from others. You may like a luxurious appearance floor rather than a simple texture.
So, keep in mind these things while choosing!
Durability
How durable is a flooring material is the most important thing to consider. Because when you install flooring it should last for years. Definitely, you won't like to replace it within a few years. Especially when you spend a lot of money!
So, you should pick a more durable flooring material that can last for up to 15 to 20 years at least.
Cleaning
Cleaning a floor is also a considerable thing that can directly increase or decrease your cost. Because some flooring options need high-level cleaning and maintenance. So, if you can't afford an expensive cleaning method you should consider it before choosing.
Moreover, you should pick a flooring material for your home that can be easily cleaned.
Installation
If you are going to install a floor by yourself then installation could be a considerable thing for you because some of the flooring options are hard to install than others. Like hardwood and tiles, floor materials are difficult to install.
So, you have to hire a flooring installation professional that ultimately increases your cost as well.
Budget
Your square footage budget is one of the most important things when choosing a floor. Your budget could be $2 or less, between $2 to $5, and more than $5.
With a budget of $2 or less, you will go with bargain laminate flooring that has an appearance like general wood. You can also choose resilient flooring which refers to sheets and tiles.
Normally with a low budget, you don't have many more choices.
With the budget range between $2 to $5 or more, you will find more attractive laminates fall and luxury higher quality vinyl tiles as well.
Different Types of Flooring materials
1. Hardwood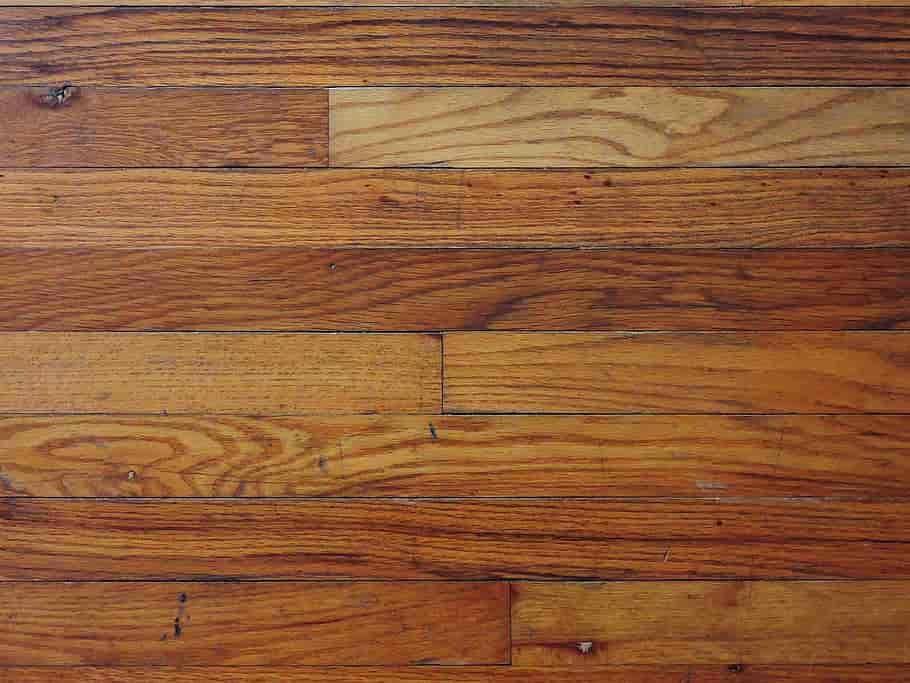 A hardwood floor is a type of wood floor that is made of wood usually from timber. Wood is a common choice for flooring nowadays with different styles, colors, and species.
It is made of one single piece of wood cut from a tree of your choice. The most commonly used woods for hardwood flooring are oak, cherry, and walnut.
It is known as one of the most luxurious floorings with a shiny look.
It is common for homes in New England, Canada, the USA, and Europe. According to Statista research hardwood flooring materials sales only in the United States amounted to 3.45 billion dollars.
Mostly the planks are thick three-quarters of one inch but the width might vary. If we talk about the standard width that is between three to five inches, called a standard or medium plank.
There is another style called wide planks and that is usually between five to ten inches.
Types of Hardwood Flooring
Pros
More durable than engineered wood floorings like vinyl and laminate
Easy to clean and maintain
Available in various colors and styles
Cons
Cost
The range of wood flooring is between $2493 to $6754 which is one of the most expensive flooring options. It includes both material and installation costs.
With the passage of time scrapes, scratches, and dents will develop. On average, the cost of hardwood flooring ranges from $4 to $12 per square foot, with installation costs typically adding another $3 to $8 per square foot.
While the initial price tag may seem high, the long-term benefits of hardwood flooring often justify the investment.
2. Laminate Floor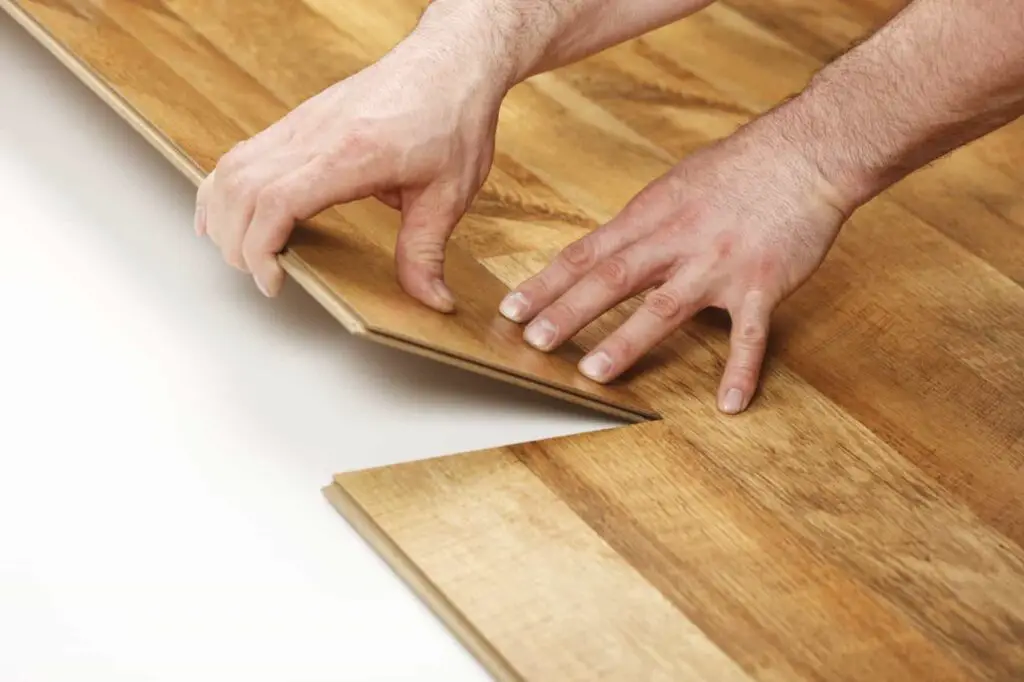 Laminate flooring is one of the best options if you want to install hardwood floors but the cost doesn't match your budget because it mimics the real hardwood floor!
The difference between a laminate floor and a hardwood floor is that the laminate floor doesn't contain a real wood top layer. It uses photo-realism technology of different finishes like stone, and wood, and is covered in a plastic coating.
The main advantages of laminate flooring are lower prices, ease of installation, durability, and a large variety of colors, and styles.
But on the other hand, it also has the advantage that moisture can damage and difficult to repair.
Types of Laminate Flooring
Installation Type
Patterns
Pros
Looks like a real hardwood floor
Waterproof and scratch-resistant
Less expensive than hardwood
Suitable for high foot traffic areas
Cons
Hard to repair if gets damaged
Cost
Engineered laminate wood costs between $3 to $8 per square foot but it depends on the quality of the laminate. And $2 to $5 per square foot for its installation, it also depends on installation difficulty.
3. Vinyl

Vinyl flooring is a popular option nowadays, particularly for kitchens and bathrooms.
Vinyl flooring has further three types the first one is sheet vinyl flooring in which sheets are 6 to 12 feet wide. The sheet flooring is more resistant to water and easy to install.
The second type of vinyl flooring is luxury vinyl tile flooring which uses tiles of 9*9 to 12*12.
The third and most important type is LVP (luxury vinyl plank) flooring.
The vinyl floor could be a better option in the areas with high foot traffic like hallways, entryways, bedrooms, kitchens, bathrooms, etc.
Pros
Cons
Less durable than wood flooring
Difficult to remove if needed
Pricing
It has an affordable price and you can go with it at $3 to $15 per square foot including all types of vinyl flooring.
Related Topic: Luxury Vinyl Tile Pros and Cons: Complete Guide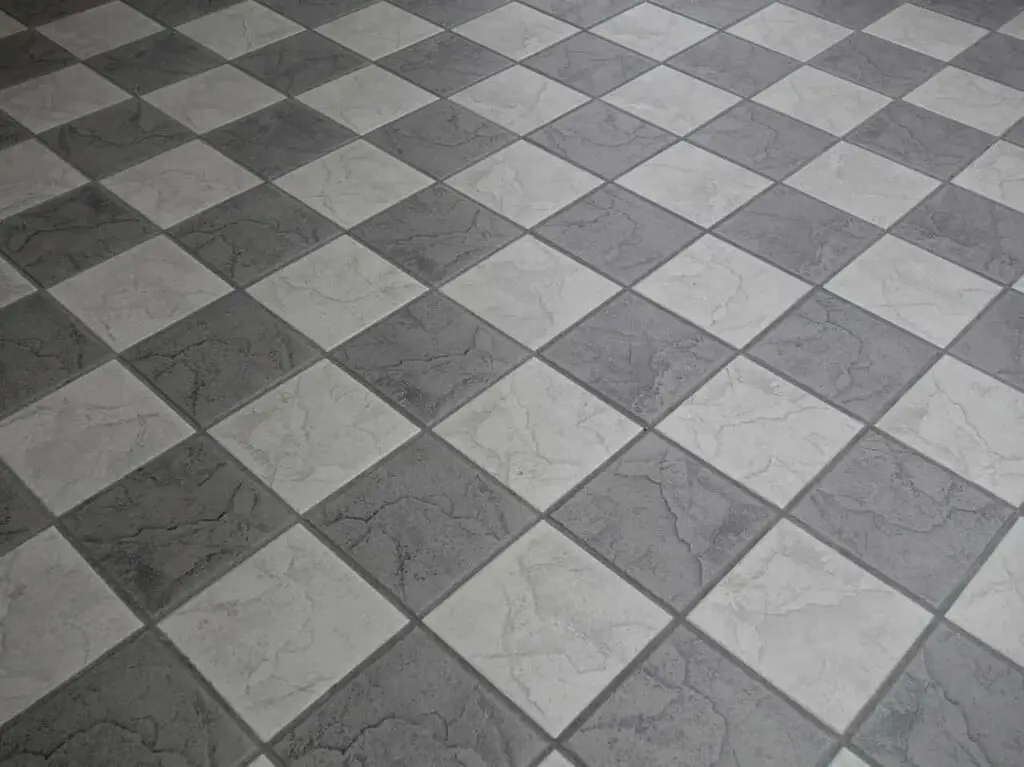 For high-traffic and moisture-prone areas, porcelain and ceramic flooring is a great option. With its good variety of looks and designs, it is durable and waterproof.
It is also a great option for kitchens, bathrooms, and entryways.
Cost
It is an expensive option at $4 to $115 per square foot. If you are going to install it by yourself then it may not be a better option for you because it is difficult to install.
But still, if you are a professional to install this type of floor by yourself and also you can afford its price, you should go with this best option.
Types of Porcelain Tiles
Pros
Easy to clean and maintain
High durability and long-lasting
Cons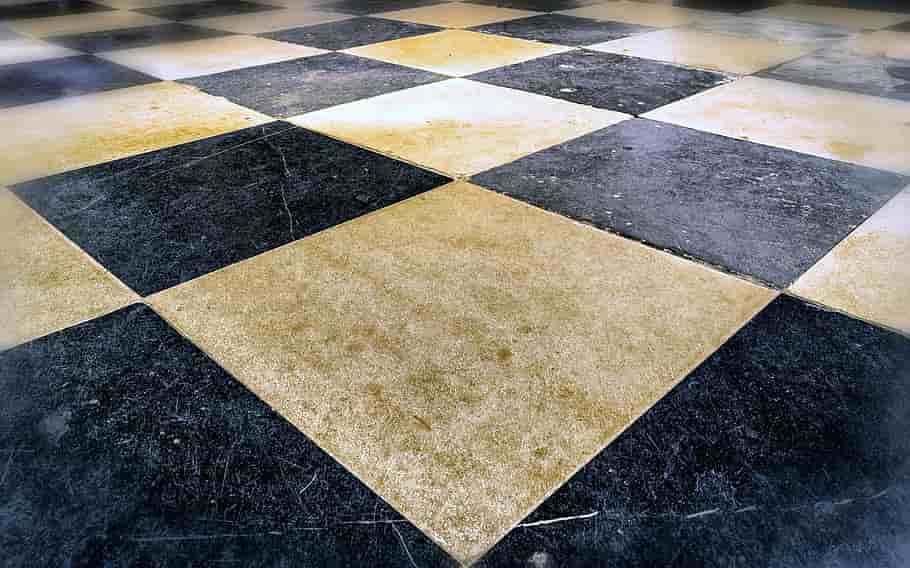 If you want a classic flooring option, natural stone tile is a great option for you with different varieties like granite, marble, travertine, and sandstone.
It also comes in various colors, styles, and shapes that make it a more classic flooring option. Almost all types of natural stone floors are durable, insulated for warmth, eco-friendly, and good for homes.
But travertine is more durable than all other types.
Cost:
It always needs professional installation at $800 to $3000 for both materials and labor which is more expensive.
Types of Natural Stone Tiles
Pros
Easy cleaning and maintenance
Cons
Due to hardness slips and falls accidents can lead to severe injuries
Removal of old paint stains is hard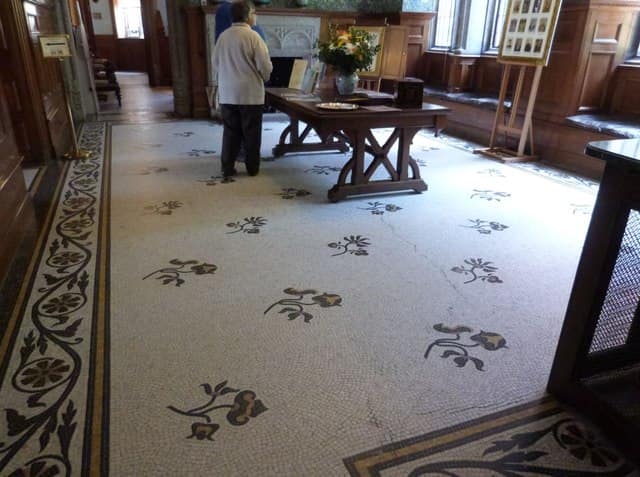 A carpet is a favorite option for many homeowners in their bedrooms with its benefits including cost-effectiveness, softness and warmth, various colors and designs, and soundproofing.
But not only this it also has some disadvantages like being difficult to maintain, not good for pets, and highly non-recommended for the kitchen and bathrooms.
If we talk about how it looks? It gives a neat and amazing look because of the variety of textures and the upper layer of the pile which is usually made of wool or fibers.
Cost
The carpet floor is one of the cheapest flooring options at $2.50 to $12 per square foot according to Forbes. You can also install it by yourself which also reduces the cost.
Types of Carpets
Combination of cut and loop pile carpet flooring
Commonly used Fabrics in Carpets
Nylon
Triexta (Smartstrand)
Polyester
Olefin
Wool
Acrylic
Pros
Inexpensive
Softer
More versatile
Easy to install
Quieter
Cons
Needs regular maintenance
Hard to clean
Dirt hides inside the carpet and is impossible to remove without using a vacuum
Shows wear and tear
Related Topic: How Long Does Carpet Last? Ultimate Guide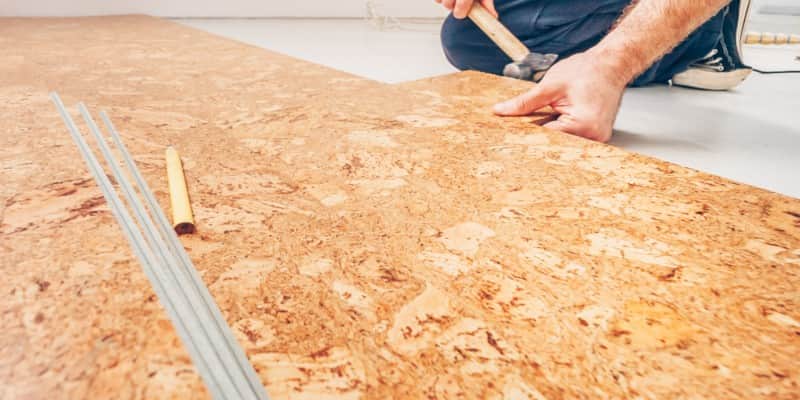 Cork has a natural look with its two types the first one is floating cork flooring and the second is cork tiles.
Floating cork flooring is easy to install. It is not solid but sandwiched with many other layers. The best thing about floating cork flooring is you can also install it by yourself.
On the other hand, cork tiles are truly something different because it is always better than floating cork flooring.
Cost
It has an affordable price with its beautiful colors and designs at $2 to $12 per square foot according to TheSpruce.
Types of Cork Flooring
Glue down tiles
Click together planks
Pros
Safe and comfortable
Classy appearance
Fire-resistant
Water-resistant
More durable against cracking and abrasions
Cons
Soft flooring material
Get easily scratched by pet nails
Furniture and heavy objects leave permanent dents on their surface
8. Terrazzo Flooring
Terrazzo is a composite material that boasts a rich history dating back several centuries. Known for its sustainability and durability, Terrazzo flooring is typically composed of chips of marble, quartz, granite, or glass, embedded into cement or epoxy resin.
The blend is then polished to a high shine, creating a smooth, sleek surface that is both aesthetic and practical.
Terrazzo is highly customizable, with the ability to mix different chip colors and sizes, allowing for a unique design tailored to your specific taste. Additionally, it's resistant to water and stains, which makes it an ideal choice for high-traffic areas such as kitchens, bathrooms, or commercial spaces.
However, it's worth noting that Terrazzo flooring can be somewhat expensive to install, and it may feel cold or hard underfoot. Hence, it might not be the best choice for those seeking a cozy, warm ambiance.
Advantages and Disadvantages
Advantages:
Highly durable and long-lasting
Customizable design options
Resistant to water and stains
Disadvantages:
Expensive installation cost
Cold and hard underfoot
9. Epoxy Flooring
Epoxy flooring is a type of surface coating that utilizes a combination of hardeners and resins to create a tough, durable, and resilient finish. This type of flooring is famously used in industrial settings, garages, and businesses due to its high resistance to chemicals, stains, and wear and tear.
Despite its industrial reputation, epoxy flooring has been making its way into residential properties, thanks to the variety of colors and patterns available that can mimic different aesthetics, including terrazzo and polished concrete.
Epoxy flooring is relatively easy to install and maintain, and it's also cost-effective, especially when compared to other flooring types. Its seamless surface makes it easy to clean, and its shiny finish can reflect light, enhancing the brightness of a room.
However, epoxy flooring isn't without its drawbacks. It can be slippery when wet, and it doesn't absorb sound well, which could contribute to noise levels in a room.
Moreover, although durable, it can be susceptible to scratches, and it may not be the best choice for those seeking a softer, more comfortable underfoot feel.
Advantages and Disadvantages of Epoxy Flooring
Advantages:
Durable and resistant to chemicals and stains
A variety of design options
Easy to clean and maintain
Cost-effective
Disadvantages:
Can be slippery when wet
Contributes to noise levels in a room
Susceptible to scratches
Hard underfoot
Conclusion
I am pretty sure now you're able to decide what floor you need to install for your home and you understand the different types of flooring materials.
You can select any option it totally depends on your requirements what is your budget, what you like the most, and which one is suitable for your environment.
FAQs
Which type of floor is best?
All flooring types we've mentioned above are the best under various conditions. For example, hardwood is ideal for classic interiors, tiles are better for a clean look, and laminate or vinyl resembles wood on a low budget. It completely depends on what you want your floor to be.
What type of flooring lasts the longest?
High-quality wood and marble tiles are considered to be flooring options with the longest lifespan. Typically, they can last up to 25 to 30 years. However, proper care and maintenance are required.
Which type of flooring is the cheapest?
Sheet vinyl is considered the cheapest flooring with an average cost between $.50 to $2 per square foot. However, laminate is also the cheapest flooring option that looks like hardwood but at a low cost.
What is the most popular flooring in homes today?
Hardwood is the most popular flooring option for years. Although, it is known as the most expensive flooring as well. But still, people love to have it in their bedrooms, hallways, patios, kitchens, etc. However, in the coming years, engineered wood flooring like laminate may replace hardwood flooring at a low cost.