If you are tired of dealing with your floor that is still ugly even after cleaning it multiple times in a day. Then you are at the right spot.
You surely want to see a good and clean floor after spending a good amount of time and energy cleaning it.
So, I've put a list of the 7 best floor cleaners for your floor that are currently available.
After reading this article you will be able to choose the most suitable and ideal liquid floor cleaner for your home.
But first, you should know why you should use floor cleaners.
Why do we use liquid Floor Cleaners?
In homes, offices, and all other commercial buildings, everyone has high expectations that the floor always looks not only clean but safe as well to use.
A hard floor that is unsafe and unclean threatens safety, health, and your reputation as well.
Cleaning the floors look good but also improves safety. If you don't clean and maintain your floor, dirt, grit, and grime become a tripping hazard.
And ultimately due to this type of situation slips and falls can lead to injuries as well.
We use liquid cleaner on hard floors. So these liquid cleaners are available in a wide variety of formulas that suit your floor.
Our Top Pick
If you are in hurry and don't have much time to read the complete article then choose Bona hardwood Cleaner that is Our best pick!
Best Floor Cleaners
Bona Hardwood floor cleaner is used with most upright hard floor cleaning machines as it is specially formulated.
You just need to follow the manufacturer's instructions for operating, filling, and cleaning your floor cleaning machine.
It is not only safe for all unoiled, unwaxed, and polyurethane-finished wood floors but also it cleans and reveals your floor's natural shine.
One more amazing feature of bona hardwood floor cleaner is its water-based cleaning formula that dries the floor fastly.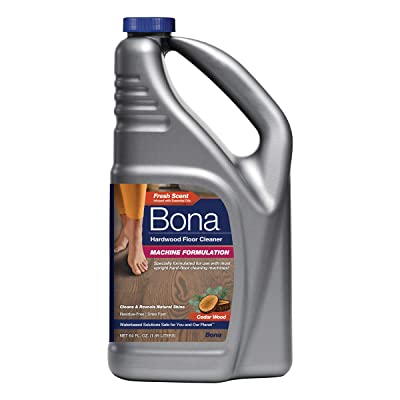 Specifications
Green Guard Gold certified
Best for cleaning pet messes
Infused with essential oils
Recommended by flooring professionals
Pros
Cleans and reveals natural shine
Cons
You wanna read more and in detail?
Let's start with the types!
Buying Guide
Types of Liquid Floor Cleaners
Natural Products
The products which are non-toxic and environmentally friendly are known as natural products. These products are also free from artificial colors and scents.
You can use this type of product on multiple kinds of floors, especially in those areas where most children and pets spend time.
Pros
Free from harsh chemicals
Ideal for regular cleanings
Suitable for multiple floors
Cons
Not an ideal option for heavy-duty cleaning
Ready-to-Use
Ready-to-use formula products are more convenient and ideal than any other.
There is no need for special preparations, the only thing you need to do is just apply the cleaner and you're done, ready to mop.
Pros
Various types are available
Easy to use and quick response as well
Requires fewer cleaning supplies
Cons
Maybe not suitable for heavy grim
Concentrate Liquids
For both regular and heavy cleaning, a concentrated cleaner is the most suitable option. Because these types of cleaners are available for all types of floors.
Furthermore, due to its concentrated formula, it allows you to add water and customize the strength to dirt, and grim.
Pros
Cons
Requires more cleaning supplies
Need more preparations work
Buyer Tips
Every cleaner works efficiently on specific floors so choose a product that works well for your floor and is more suitable as well. For better results, you should know about your floor type.
Don't choose a product that you've heard worked well, but choose a product that works well for the type of floor you have.
What cleaning tools do you have?
How you're using the cleaning product
I hope you understood the types of liquid floor cleaners and the buyer tips.
I am also pretty sure now you're able to choose the best and most suitable liquid cleaner for your floor.
So let's continue to the list of the 7 best floor cleaners!
FILA CleanAll Surface Care Solution is a concentrated neutral surface cleaner that cleans floor coverings. You can use this cleaner on porcelain and ceramic tile, LVT, laminates, and wood.
Its pleasantly scented formula can clean all surfaces safely and leave them streak-free as well.
Ideally, you can use it for everyday maintenance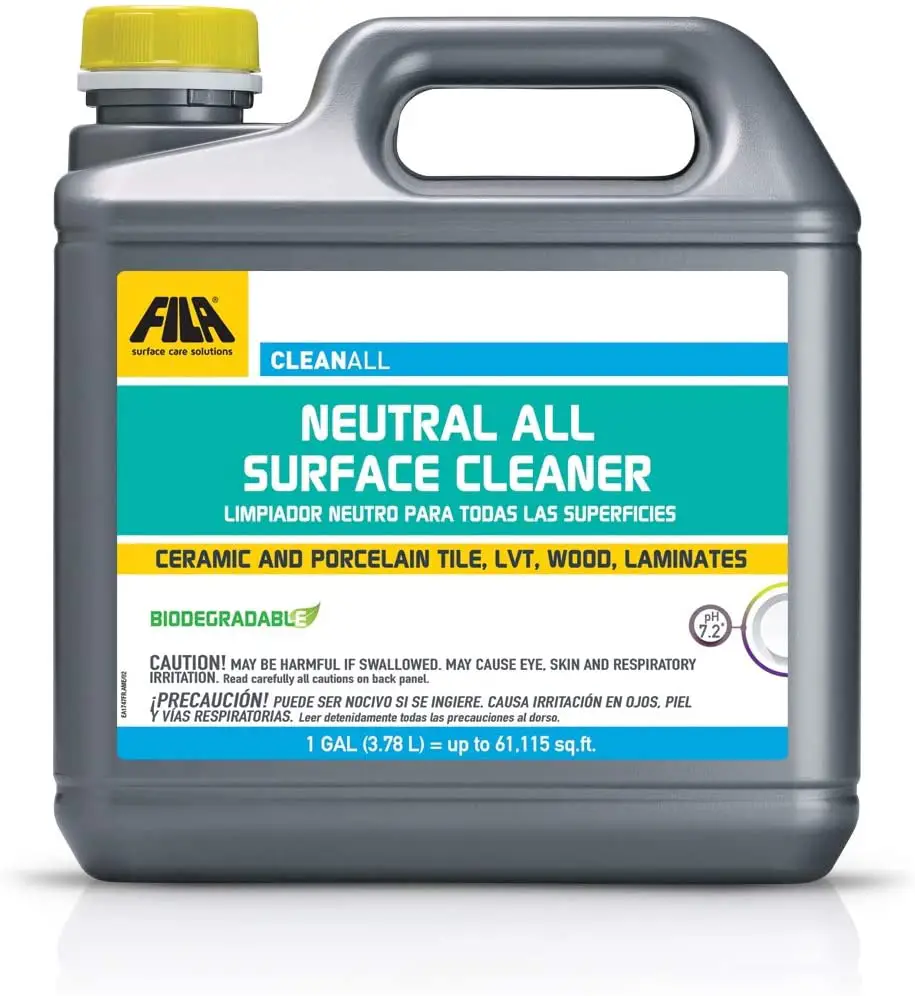 Specifications
The product is highly concentrated and can be diluted according to use
Mild detergent safe on delicate surfaces and floors
Pros
Good product at a competitive price
A gentle cleaner but very effective
Cons
It may be harmful if swallowed that is actually a caution as well
The stone pro deep cleaner is an ideal option to use on polished surfaces, granite, marble, limestone, and slate.
It removes hard water spots, food stains, soap scum, and grime efficiently.
Furthermore, it is safe for all natural stone and tile surfaces and its concentrated formula can make up to 32 gallons.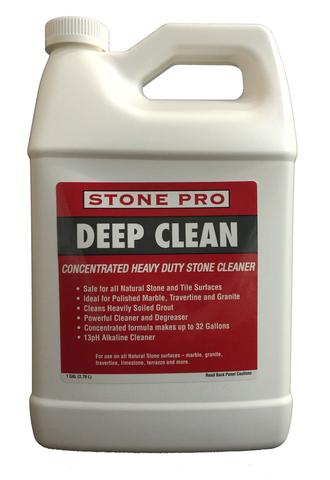 Specification
Non-toxic and biodegradable
Safe and will not affect the polish of the natural stone
Safe for food preparation surfaces
Heavy-duty alkaline cleaner leaves surfaces clean and grease-free
Pros
Clean and remove grease from natural stone surfaces and surrounding grout
Clean heavily-soiled grout as well
Cons
Could not mix with any other cleaner or chemical
Sheiner's hardwood floor cleaner concentrate is specifically formulated for hardwood and wood laminate flooring.
Its concentrated formula makes up to 128 gallons of cleaning solution.
It deals effortlessly with the dust, dirt, and grim on your wooden furniture and flooring.
Specifications
Gentle and safe for all types of surfaces
Fresh and refreshing scent
Pros
Excellent cleaning results
Related Topic: Best Floor Mat Cleaner: Top 7 Picks (Reviews)
All-purpose Lavender cleaner is not only ideal for use in mop buckets or automatic floor scrubbers but also suitable for all types of floor and other surfaces including vinyl tile, concrete, slate, ceramic tile, grout, and quarry tile.
Furthermore, this is a time-saving product for cleaning and brightening a hard, glossy surface and finish, including floors, tile, enamel-painted walls, porcelain, etc.
This is considered a powerful cleaner that will remove heel marks, dirt, and soil from any surface. No rinsing is required and the pleasant floral fragrance deodorizes all in one easy step.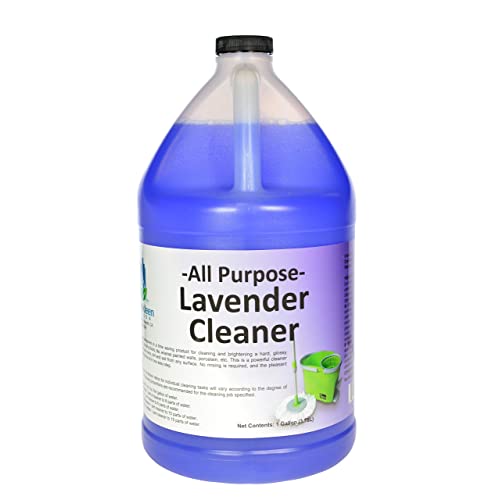 Specifications
High-quality formula made without butyl or inorganic phosphates
Multi-purpose cleaning solution
Pros
Safe for children and pets as well
Makes cleaning and disinfecting a bit more pleasant
Seventh-generation professional concentrated cleaner known as a powerful pH-neutral and plant-based floor cleaner that can remove soil with no streaks.
It contains no VOCs, chlorine bleach, and fragrances, so it provides great results and leaves the surface clean with this concentrated formula.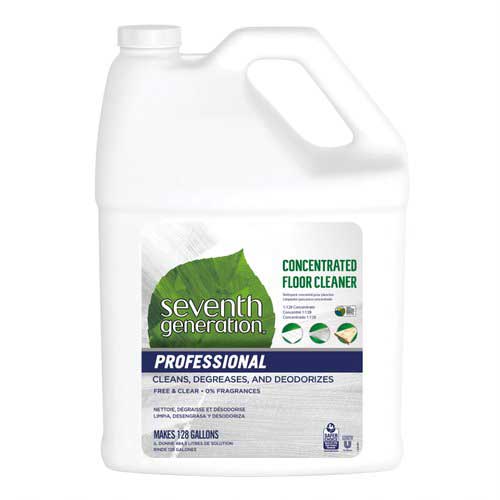 Specifications
100% biodegradable formula
Bio-based floor cleaning power
Meets U.S EPA safer product standards
Made with plant-derived surfactants
Pros
Effective and safe for both humans and pets as well
It cleans the floor without streaking or residue left behind
It makes 256 gallons of floor cleaner
Cons
Leaves the floor sticky sometimes!
MORE luxury vinyl floor cleaner is known as a daily cleaner and is specifically formulated for cleaning luxury vinyl tile and luxury vinyl plank flooring surfaces.
The best thing is its unique stain-release formula that safely dissolves dirt, and grime, and leaves behind a clean, residue-free surface.
Also, its neutral pH formula will not damage the vinyl composition.
No rinsing is required.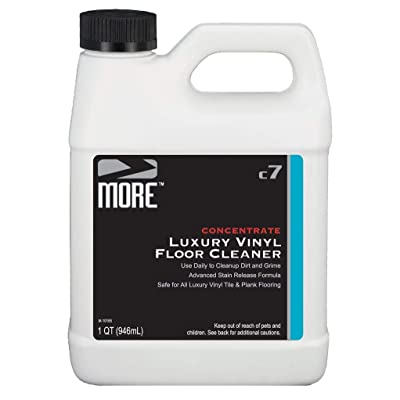 Specifications
1 quart cleans up to 80,000 square feet
Gentle, pH-neutral formula
Pros
Effective and easy to use
Cons
Very small container (But, the stuff is so concentrated so you can use a lot of water in it)
Related Topic: 6 Best Wood Floor Polish To Shine Your Floor
Conclusion
What will you choose, keep in mind it depends on your needs. So, that's why I have tried to cover all types of best floor cleaners.
Usually, every floor cleaner has its own different specifications, pros, and cons, but every cleaner in the above list will be suitable for someone according to his situation and need.
So, don't be confused while choosing.
You just need to know about your needs and go with the most suitable.
If you still have more questions, you can freely ask. We will try to provide you with the best answer from my side.
FAQs
Which liquid is best for floor cleaning?
Bona hardwood cleaner is the best floor cleaner because it includes less harsh chemicals in it. so, it won't damage the surface of your floor. moreover, it is ideal for regular cleaning and can be used on multiple types of hard floor materials like hardwood, tiles, etc.
How do I make floor cleaner at home?
To make a floor cleaner at home you need 1/4 cup white vinegar, 1/4 cup washing soda, 1 tablespoon of liquid dish soap, and 2 gallons of hot tap water. Mix them and wait for 15 to 20 minutes for reaction and your cleaner is ready to use.