With broken zigzag design patterns the herringbone floor becoming a more versatile and traditional flooring option. But it is a little bit more expensive for labor-intensive install.
Yet you have an option of installing the herringbone floor by yourself.
But how? What are installation instructions for herringbone flooring?
Just relax, to save your installation cost we are here to facilitate you. Because we're gonna tell you the 10 best installation instructions for herringbone floor.
Why Herringbone flooring?
For modern homes, the herringbone flooring design becoming a widely preferred option nowadays. In any way such as design adaptability, suiting with the background, and creating a subtle effect, it has a dominating presence and appearance.
Not only on the ground, additionally you can use it on the wall and furniture as well. Moreover, it can be used on cabinets, doors, desks, and all the flat surfaces in the home.
One of the most amazing things that make herringbone flooring designs a more suitable option is its easy-to-clean feature.
Yes, no more headache of deep cleaning with heavy tools.
You simply need a simple wipe to clean, usually with a microfiber head mop.
4 Key features of herringbone flooring:
WaterProof: A home with naughty children and pets usually having spread water on the room floor surface. So, it keeps safe your floor from water and all other types of liquids.
Scratch-Free: The only solution to a floor surface with deep scratches is to replace it. But who can afford a complete floor replacement just because of scratches? So, the herringbone flooring is fully free from scratches. But still, you need to take care!
Heat- Resistant: with the help of the heat resistance feature it keeps the surface safe from any type of heat.
No-Residue!
The variety of various flooring options makes it more popular. Let's talk about its different types.
Types of Herringbone Floors
Solid Hardwood Herringbone Flooring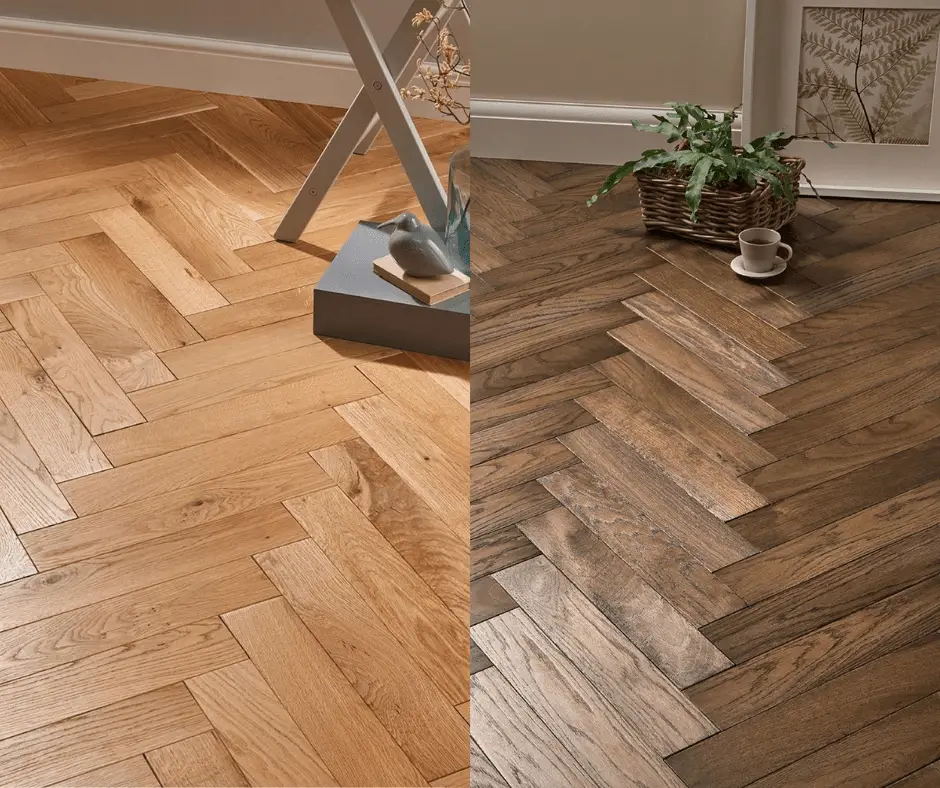 With the beauty of the herringbone design pattern, solid hardwood herringbone flooring is most commonly used. For the herringbone design floor surface, the most common wood species is solid oak.
With multiple using options the solid wood herringbone can be used anywhere in your home like living rooms, bedrooms, bathrooms, stair landing area and, more.
Moreover, it won't get fade with long-lasting durability in both indoor and outdoor conditions.
Engineered Herringbone Flooring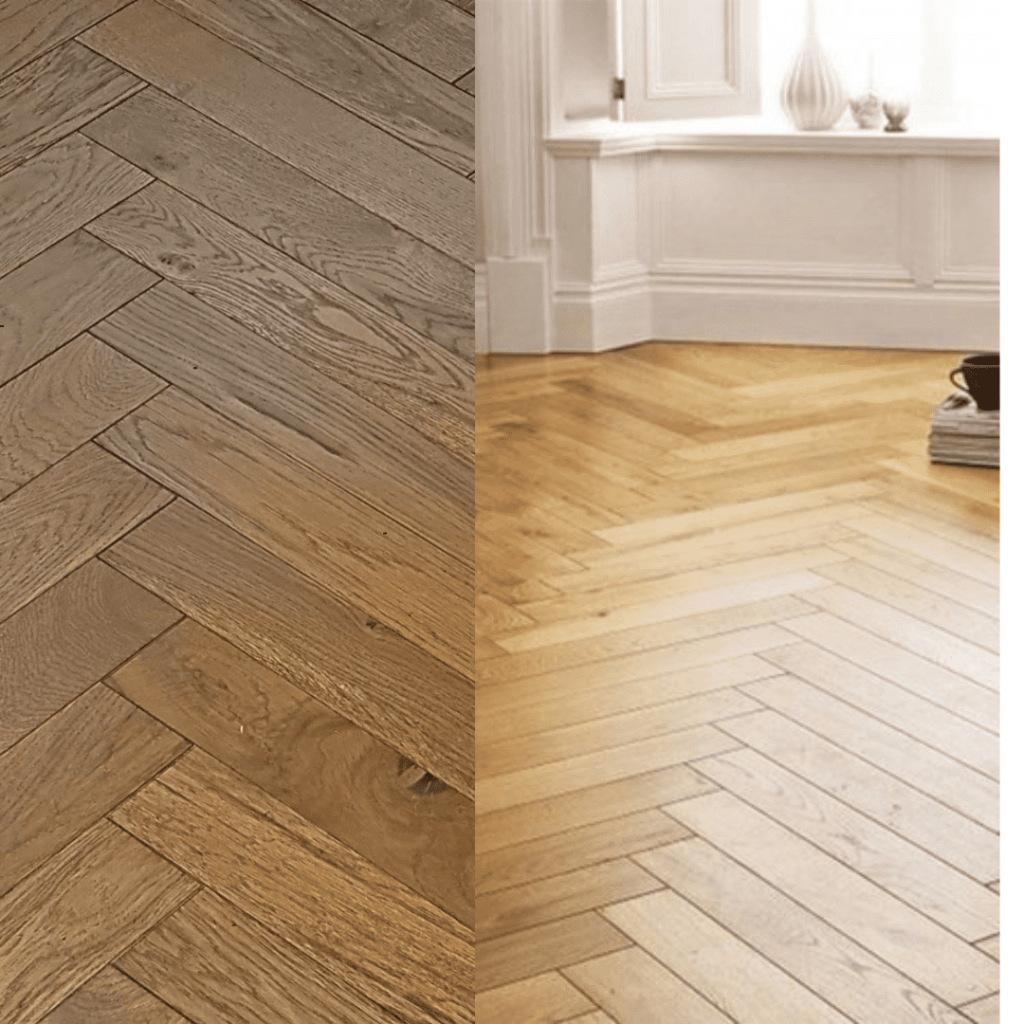 Engineered herringbone floors are more advanced and practical floors that can be used in the most used areas with high moisture levels. Obviously most importantly in the bathrooms and kitchens.
These floors are fully waterproof, long-lasting, and durable even under extreme conditions.
To get a safe, stunning, and stable floor surface under the foot, herringbone engineered flooring is a better option than any other.
Laminate Herringbone Flooring
Laminate herringbone flooring is an ideal choice in the widely used areas with heavy foot traffic like hallways and entryways of your home.
Not only there but also in the living rooms, bathrooms, and kitchens. Anywhere you want in the home!
They are water-resistant and scratch-free that keeps the floor surface safe from any type of damage.
To easily clean them from any type of dirt, dust, or grime you simply need a microfiber head mop cleaner to sweep.
But to eliminate the deep stains you should use a steam mop that works well for deep stains on a laminate herringbone floor in an effective manner.
Vinyl Herringbone Fooring
With a multi-layer structure, vinyl herringbone floors are most stunning, decorative, and easiest to clean. The UV-coated layers can remain safe in any extreme condition.
The multiple tough layers make these floors more durable and long-lasting and keep them safe from any type of damage.
As they are more stunning and decorative so they are a great addition anywhere in a home.
Installation Instructions for Herringbone Flooring
Clean the Surface
The very first step you need to do is clean the surface from all the dirt, dust, and grime where you want to install the herringbone floor. Because if you don't, the dirt and grime remain under the herringbone floor and damage the surface from under.
So, don't skip this.
To do a deep cleaning you should use a microfiber head mop with taped water. You can also a concentrated liquid floor cleaner but still, the use of tap water is enough.
After cleaning the surface completely you have to wait for some time.
Why?
To dry the surface!
Measurement
When the surface fully gets dry let's measure the surface. Measurement is important because it will give you an idea to determine the number of herringbone floor tiles or the length of a herringbone floor sheet you required.
Always consider a 4 to 5 percent cutting loss while measuring.
To guide tile placement use a level or chalk to create one vertical and one horizontal reference.
Cutting
Inter-Lock with each other
Tools you Need
---
FAQs