It would be a little bit hard to clean a dirty mat if you choose a bad floor mat cleaner. Usually, all floor mat cleaners look great for cleaning. But not all types of mats are suitable for every type of cleaner.
So in this guide, I am gonna share with you the 7 best floor mat cleaners that can eliminate any type of dirt or mess from your mat.
Before purchasing any household first you should know about its features and things to consider. Because you may don't know what to consider when choosing a floor mat cleaner.
So first, let's have a look at the buying guide for a floor mat cleaner!
Buying Guide: Things to Consider
Should be Slip Resistant
There are many floor mat cleaners in the market that make a mat more slippery while walking on. Ultimately it won't be safe because a slippery mat leads to slip and fall accidents at your home.
That's why always go with the mat floor cleaner that won't make the mat surface more slippery.
You may have read somewhere else about floor mats with anti-slip backing or possibly you may have it. And you think it doesn't matter to you. But it does! Because those floor mats have a non-slip backing that protects them from moving on the floor surface.
While the floor mat cleaner makes slippery the upper side of a mat. So, you have to consider this if you want to protect your family.
Maintain Original Appearance And Material
When you buy a floor mat for your home you definitely consider its material and appearance. But a mat cleaner with toxic fumes can damage its material and original appearance.
No doubt in this era almost every liquid mat cleaner includes some toxic agents. But you have to go with the minimum toxic level that won't affect its material and appearance.
Should Protect Against Fading
Some floor mat cleaners are very harsh and they can fade the original appearance and color of your mat. So make sure you pick a chemical-free or less harsh cleaner that protects the original appearance of your mat.
How to Clean a Floor Mat?
Floor mats are an essential part of any home, office, or public space. Not only do they protect flooring from dirt and wear, but they also provide a slip-resistant surface that can help to prevent accidents.
When it comes to cleaning floor mats, the best method will depend on the type of mat and the level of soiling.
For light dirt and debris, a simple vacuum or sweeping should suffice. For more stubborn dirt, however, you may need to use a mild detergent and scrub brush.
It's also important to rinse away any soap residue, as this can cause the mat to become slippery.
So, with a little care and attention, your floor mats will stay clean and fresh for many years to come.
How to Clean A Car Floor Mat?
Over time, car floor mats can become stained and covered in dirt, making them difficult to clean. There are a few simple steps that can be taken to clean a car floor mat and restore it to its original condition.
First, remove the mat from the car and vacuum it to remove any loose dirt and debris. Next, use a brush or sponge to scrub the mat with mild detergent.
Be sure to rinse the mat thoroughly after cleaning to remove all traces of soap. Once the mat is clean, allow it to air dry completely before returning it to the car.
7 Best Floor Mat Cleaners
Our Top Pick
 1. CLD_700_16 Floor Mat Cleaner
This amazing product is our top pick for a reason because its high-duty deep cleaning formula removes mud, dirt, and grime from all types of rubber mats. With the help of silicone-free cleaning formula, it restores the original appearance of a mat.
The slippery surface of a mat is the most dangerous issue after cleaning because it leads to slips and falls incidents in your home. So, this floor mat cleaner doesn't make a mat slippery after cleaning.
There are no worries!
Moreover, it can be used in homes, industrial workplaces, garages, stores, etc.
Pros
Powerful cleaning formula
Protect against fading and cracking
Suitable for both rubber mats and floorboards
Cons
It doesn't make a mat new again! (Top critical review)

2. Adam's Rubber Mat & Liner Cleaner
Best for Rubber Mats
If you have a dirty rubber mat then this rubber mat and linear cleaner with advanced cleaning formula would be a great pick. It breaks down heavy grime, mud, and all type of dirt within a few seconds.
It can be used at the home, in the garage, and in industrial workplaces. With the help of a unique protectant, it prevents discoloration, fading, and cracking on a rubber mat.
Moreover, its silicone-free cleaning formula has the ability to restore the original appearance of the mat without making it slippery.
Pros
Citrus based non-slip formula
Cons
The price really can not be justified ( Review)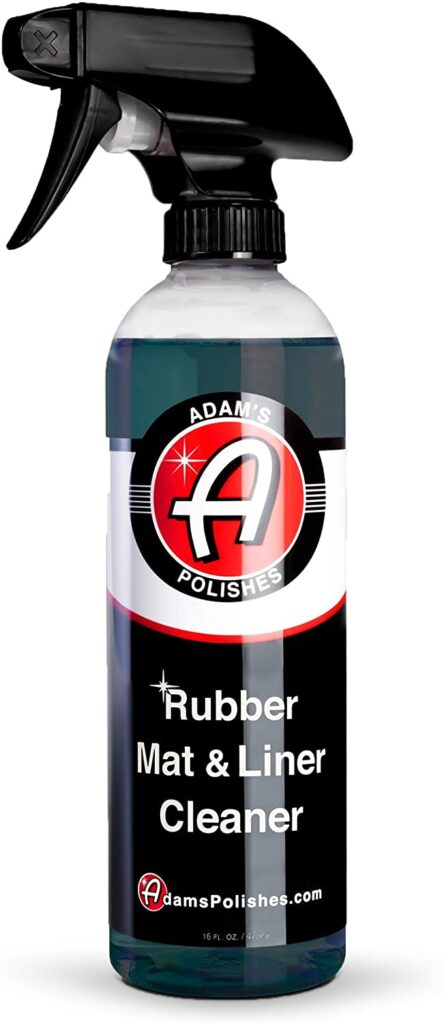 Weather-Resistant
3. CAR GUYS Detailing Super Cleaner
If you want to lift away heavy dirt and grime at the molecular level and with effective results then you should pick this one. Its water-based and no-rinse formula has the ability to remove dirt, grime, and oil from every type of surface.
Moreover, as compared to other harsh chemical detergents Car Guys Super Cleaner is safer and chemical-free.
It can be used for multi-purposes like interior, exterior, indoor, outdoor, home use, car, truck, etc.
Pros
Cons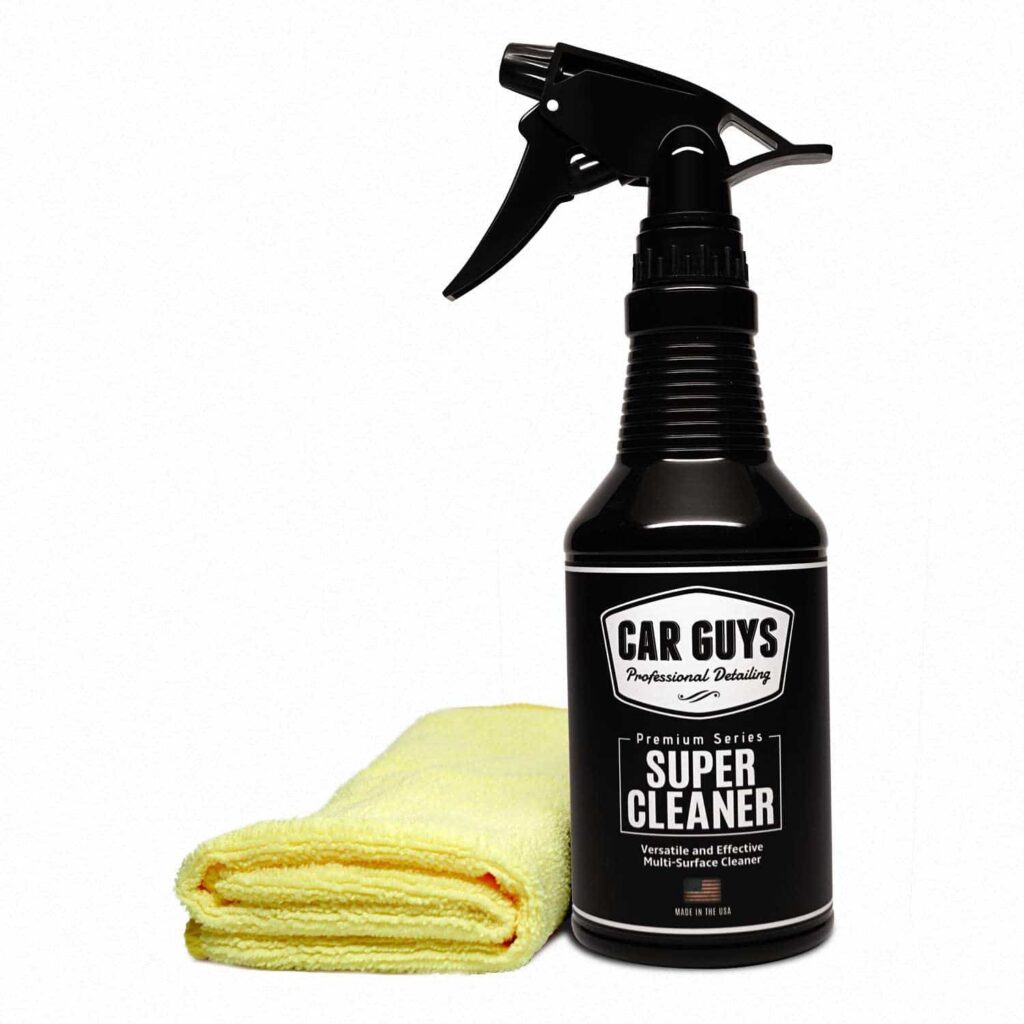 More Affordable
4. Turtle Wax Power Out! Carpet & Mats Cleaner
If we talk about the affordability and efficiency both in a single product then this Turtle Wax Power Out would be a great deal!
The detachable micro scrub brush has the ability to remove the toughest stains.
Moreover, this removable brush cap allows you to clean the tight spots without facing any difficulty. Its advanced cleaning formula can clean every type of grime and dirt from mats and carpets.
Furthermore, the X-odor eliminator helps to remove the pet's odor, food smells, cigarette smoke, etc.
Pros
Cons
The scrubber is a little bit difficult to use

All-Purpose
5. Chemical Guys SPI_993_16 Nonsense
This super cleaner has the maximum cleaning power on all surfaces with colorless and odorless ability. It does not affect the original appearance of a mat or carpet. Moreover, it does not damage the fabric as well.
Without leaving behind colors and odors, it effectively cleans and removes the dirt, stains, grime, etc.
Its highly refined super-concentrated formula can make 20 ready-to-use gallons from one gallon.
Usually, the tough stains of grease, coffee, wine, and food are hard to emove but this all-surface cleaner can clean virtually anything.
Pros
Advanced invisible cleaning technology
Low foam formula with the highest level of cleaning power
Safe for all types of surfaces
Cons
The bottle is cheaply made ( Review)

6. Simple Green Industrial Cleaner and Degreaser
This simple green nonflammable concentrated cleaner can clean all mats in your home, car, or store. With low pH, it just needed to be added a small amount of water to make your floor mat shine again.
Moreover, it does not contain petroleum distillates. So, it does not fade the original appearance of a mat.
It contains a non-toxic formula and is safe for all washable surfaces. You can use it manually or in a cleaning tool as well.
Pros
Cons
Didn't work on deep oil stains
The fragrance is not good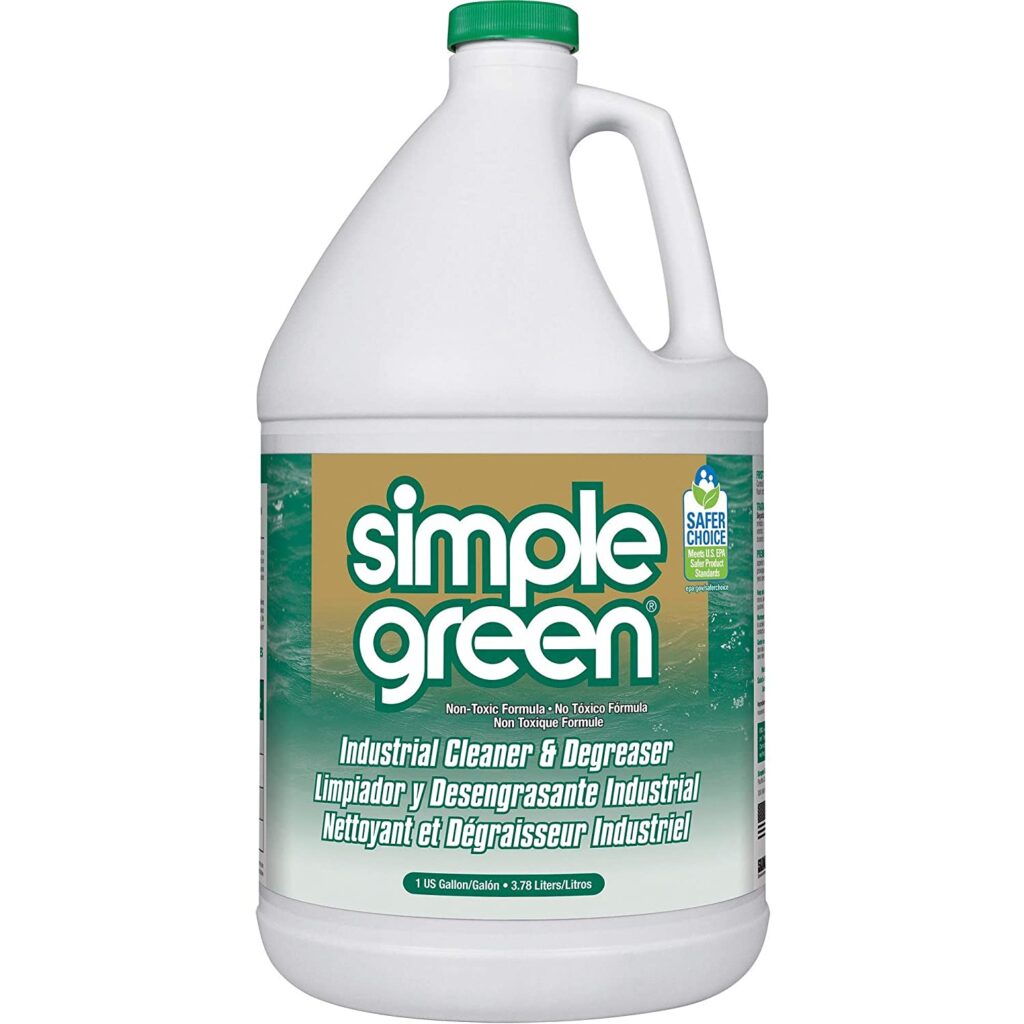 7.  Liquid X R.V.P. Spray
The proven and non sling formula makes liquid X R.V.P a better choice. To prevent cracking, peeling, and fading it has UV protection that prevents the floor mat from harmful UV rays.
Its non-greasy formula leaves your mat a stained finish.
Moreover, its non-toxic formula brings back the original color and appearance of the mat. It can be used for multi-purposes, for example on tires, bumpers, steering wheels, door panels, etc.
Pros
Renew and restore the original appearance
Easy to use with a water-based formula
Cons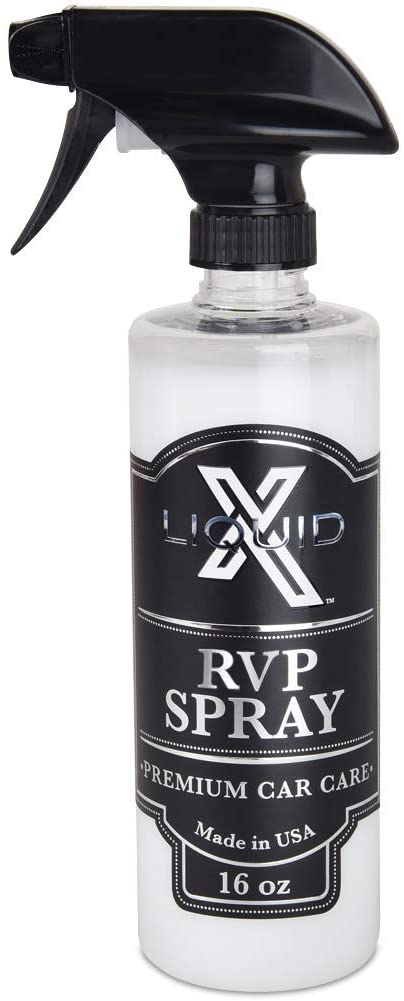 Bottom Line
We hope you found this post helpful! If you have any questions or want to leave your own review of a floor mat cleaner, please do so in the comments section below.
And don't forget to share this article with your friends and family who may also need help finding the best floor mat cleaner for their home. Happy cleaning!
Related Topic: Best Carpet Cleaning Machine: Top 9 Picks
FAQs
Can I put car mats in a washing machine?
It will be the worst idea to put a car mat in a washing machine. You can't, because a car mat is not suitable to clean in a washing machine. However, hand washing is recommended by car mat experts. After washing let it dry in the air for some time.
How do you clean bathroom floor mats?
Any good quality laundry detergent is good to clean a bathroom floor mat. But avoid using a heating machine to dry it. Let it dry naturally in the air or under the sun.