Appealing and comfortable patio floorings are so expensive and it is hard to find the best and cheapest patio flooring material.
Like other floorings, the patio flooring also increases the beauty of a home. Most people love to unwind outdoors with family and friends.
You must be one of them. Are you?
Obviously, that is the reason you are here to get the right one.
Well, you are at the right spot because I am gonna tell you the 6 best and cheapest patio floorings with an ultimate buying guide.
Make sure you have read the buying guide carefully before making a purchase. Because it will allow you to make a better decision.
But first, let's discuss what types of flooring materials could be used for patio flooring because there are multiple types.
Cheapest Patio Flooring Ideas
Hardwood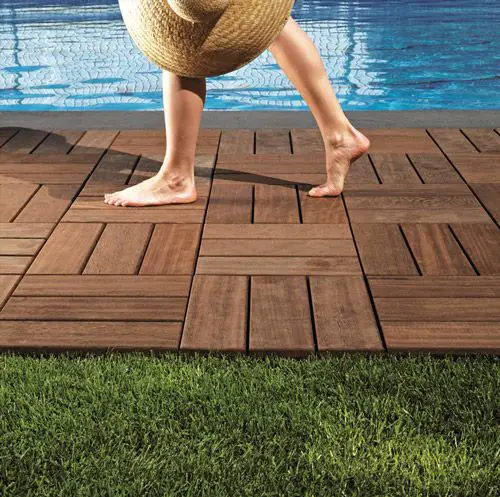 One of the most common and popular ideas for patio flooring is the installation of a hardwood floor. At an affordable price, the hardwood patio flooring could meet your needs.
The natural look of the wood makes the area more attractive.
To prevent it from rotting you don't need extra maintenance. You only need to clean it with a dry or wet microfiber mop and it will shine like a newbie.
Hardwood floors can last for many years if you will do proper care maintenance. Because the lifespan of any type of flooring depends on the way you care for, maintain, and clean it.
Usually, wooden deck boards and wood floor tiles are considered best for the outdoors.
When it comes to its durability, hardwood floors are more durable even in areas with high foot traffic. So, if you have a patio with high foot traffic you can go with the hardwood floor option.
| | | |
| --- | --- | --- |
| Wood Type | Material Buying cost per square foot | Installation cost per square foot |
| Pine | $2 to $5 | $3 to $5 |
| Teak, oak, American Cherry | $5 to $15 | $3 to $8 |
Credit: Homeadvisor.com
Luxury Vinyl Planks/Tiles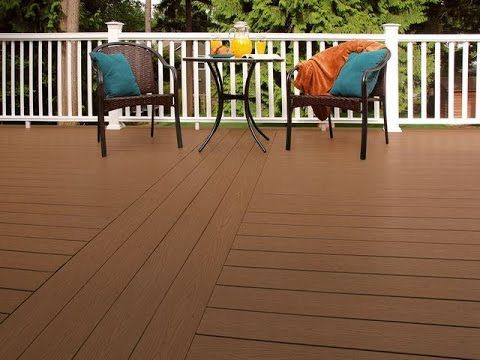 All types of vinyl floorings are suitable for outdoor use but the luxury vinyl planks and tiles are more suitable and common.
If you don't have more money to spend on patio flooring but want to install real hardwood flooring. You can pick the vinyl flooring because it has a realistic look of real hardwood.
The thing that makes it a more attractive option is the price difference. Vinyl flooring is less expensive than real hardwood flooring material.
Moreover, it is durable and can last up to 20 years with proper care.
If we talk about its look, vinyl flooring has a large number of designs and patterns with amazing colors.
The easy installation allows you to do it by yourself.
To install vinyl flooring on your patio you may have to spend $3 to $4 per square foot at the cheapest rate.
The price may vary with the quality of the materials.
Related Topic: Luxury Vinyl Tile Pros and Cons: Complete Guide
Foam Tiles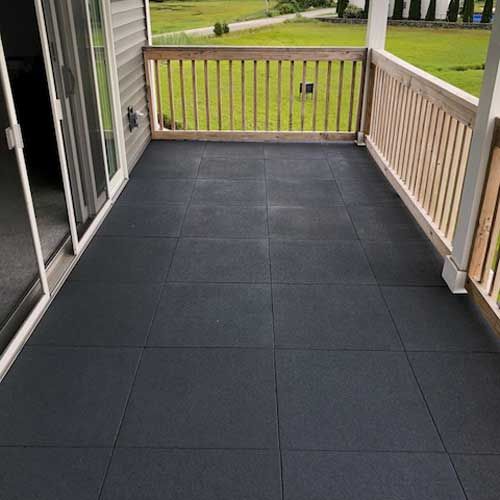 Foam tiles are available in different sizes, shapes, and colors but some are specifically designed for outdoor use at an affordable price.
Foam tiling is ideal for a patio that is next to a pool or water play area. Because this type of patio usually has high foot traffic with a lot of moisture and dirt.
And they are completely water-resistant so they can easily eliminate slips and falls accidents. With easy cleaning, you only need a damp cloth to clean the dirty areas.
Foam tiling gives you an antibacterial patio floor surface that will be anti-fungal and non-toxic as well.
Artificial Grass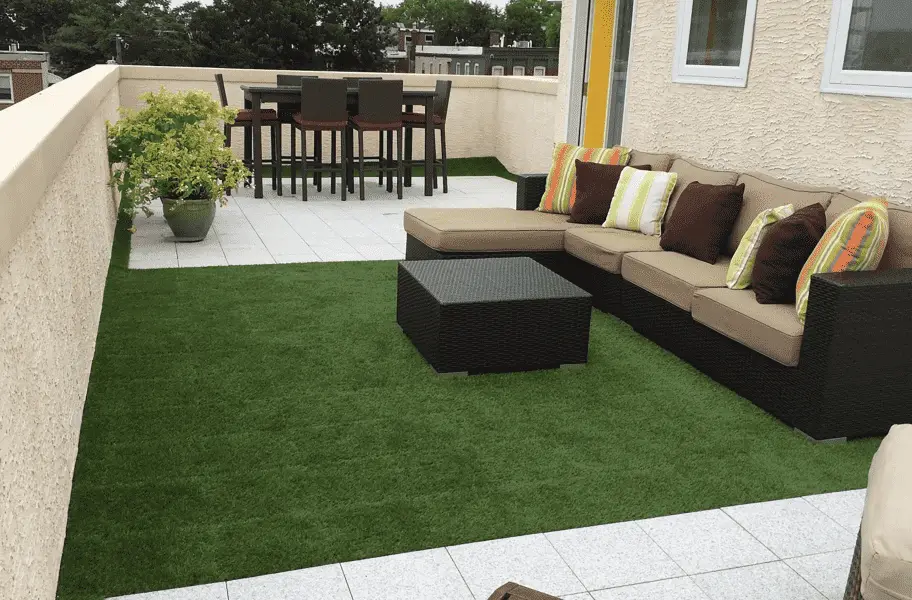 Usually, people like the natural look of grass and they have lush yards. But if you want the cheapest patio flooring with low maintenance that also provides you the realistic look of natural grass.
The artificial grass flooring could be an ideal option for you.
There are no more worries about watering and cutting the grass. The simplest thing you need to do is clean.
Moreover, the artificial grass floor can bear heavy foot traffic. The attractive look gives you a feel of a lush green lawn.
So, if you don't have a green lawn in your home, you should have a lush green patio as an alternative.
Less Expensive Bricks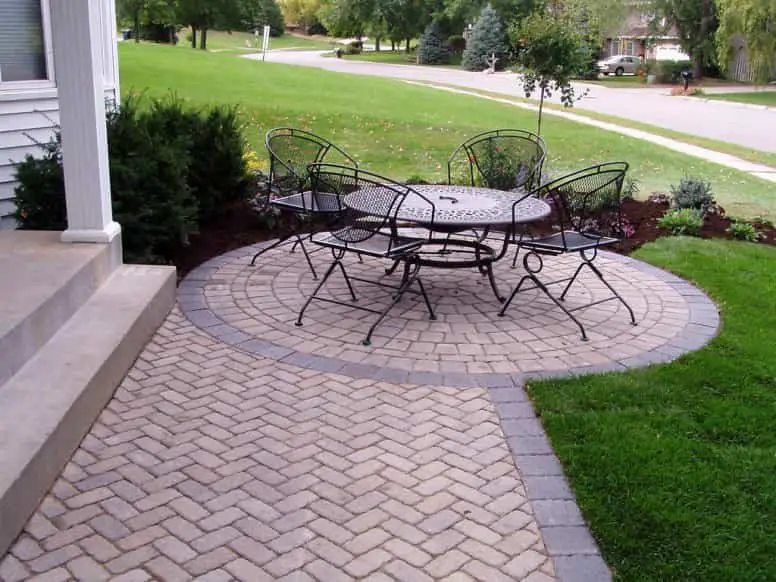 Bricks flooring is one of the most cost-effective patio flooring with different patterns, designs, and colors. They can be last for a long time if they properly maintained.
Because of their hardness, they are more durable and suitable for areas with heavy and regular foot traffic.
Bricks are completely water-resistant so you can use them freely for outdoor use and on the patio next to water play areas.
Dry and wet mopping both are ideal for their cleaning and maintenance.
Moreover, bricks can be recycled and you can use them anywhere else like building a house or outdoor fireplaces.
The price of brick patio flooring installation is $1 to $5 per square foot. It may vary with the quality of the material.
Concrete Patio Flooring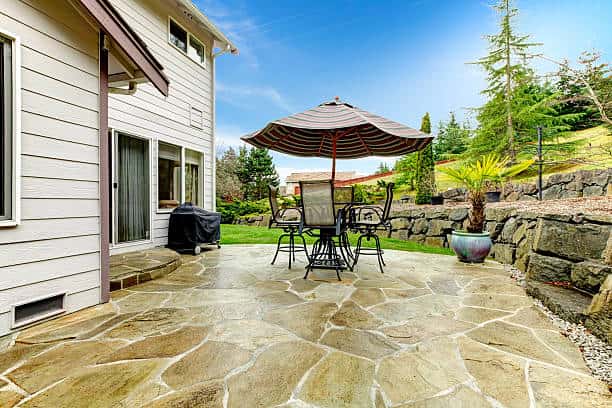 Concrete flooring is also a versatile and durable patio flooring. Most importantly concrete slabs are available at a low price which makes it the cheapest patio flooring as well.
It provides an amazing look to your patio with different varieties of designs and colors.
Furthermore, the lifespan of concrete patio flooring is long. It can last up to 20 years with easy maintenance. A dry or wet mopping would be enough for its daily maintenance.
It is completely water-resistant and stain-resistant so not only on the patio you can use it anywhere outside the home.
Outdoor Carpeting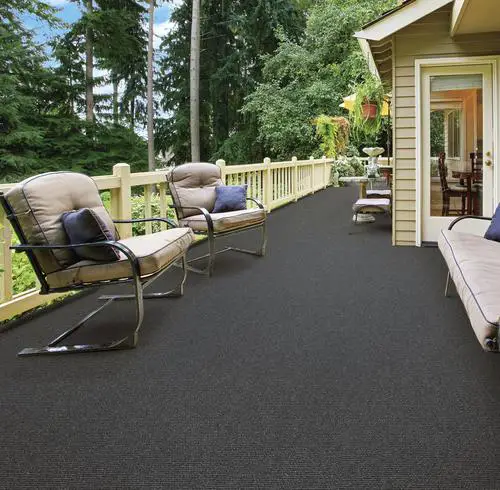 If you want to take your patio to the next level in comfort and beauty, you should consider outdoor carpeting as well. Any other type of flooring can not beat it in comfort underfoot.
There are many types of carpet flooring like polyester, acrylic, Wool, and nylon. But keep in mind you wanted carpet flooring for outdoor use. But these all are better for indoor usage.
So there is a difference between indoor carpeting and outdoor carpeting. It may be a little bit hard to maintain outdoor carpet flooring, especially patio carpeting.
Not all carpets are not completely water-resistant but a few are modern engineered.
So, for patio flooring peel and stick carpet tiles could be a better option at an affordable price.
Gravel
Gravel is one of the least expensive options for outdoor patio flooring. It's also easy to install and can be changed or moved around with relative ease, making it ideal if you want to give your patio a makeover occasionally.
Gravel comes in different colors and sizes so you can mix and match to create interesting patterns and designs. It also provides good drainage, as water will quickly flow through it rather than pooling on the surface.
One downside is that gravel may not provide enough cushioning for activities like yoga or running.
Concrete Pavers
Concrete pavers are another great option for inexpensive patio flooring. They come in various sizes and colors, allowing you to create interesting patterns and designs.
They also provide good drainage, which means that water will quickly flow through them rather than pooling on the surface.
Pavers are also durable and low-maintenance, so they'll last for years with minimal effort on your part.
6 Best and Cheapest Patio Flooring Materials
Best Overall
1. Yaheetech Interlocking Patio Wood Floor Tiles
Tile size: : 12 x 12 x 1'' (LxWxThickness)
These wood tiles can be a good choice if you are thinking to install a hardwood floor on your patio.
With the help of an interlocking base, you can finish by simply snapping and placing. Most importantly you can do this by yourself without any extra tools.
You can apply them to any existing surface such as cement, carpet vinyl, etc. With high quality and durability, they can be applied to a patio next to the poolside, balcony, bathrooms, and greenhouse.
Why do we consider that product the best?
Because this product has a 70% five-star rating from its buyers. That means the majority of people found it more beneficial overall.
Moreover, these reviews are older than two or three years which means those buyers are still satisfied with the product. So, they never come back and edit their positive review to a negative review.
Furthermore, we are happy to tell you that we have read and observed the reviews and we've found the majority of happy customers.
Pros
Can be used for both indoor and outdoor places
Made with 100% solid fir wood
Available at an affordable price
To avoid cracking tiles are tightly connected to each other
Cons
A little bit hard to install over an existing carpet floor
Incorrect dimensions. A few customers complained the dimensions are actually 11.5″x11.5″, not 12″x12″.
Easy to Clean
2. LVT Interlocking Patio Flooring
Tiles Size: 7 mm thick and  12" width x 24" length 
Luxury vinyl interlocking tiles are ideal for every type of outdoor surface, especially for patio flooring. It can be installed on most existing floors like hardwood, tiles, concrete, and stone.
With the 100% waterproofing technology, it won't ripple or swell due to high moisture. With realistic prints, it looks like a real stone or hardwood floor surface.
For easy cleaning and maintenance, it only needs a vacuum or a damp cloth.
Pros
Made with ultra-durable material
Great for imperfect sub-floors
Stone plastic composite flooring
Easy Installation, do it as a DIY project
Easy cleaning and maintenance
Cons
Not scratch-resistant against heavy furniture movement
Unnatural look and the coloring didn't flow
Comfortable Underfoot
3. EVA Foam Interlocking Floor Tiles
Tiles size: 24" x 24" x3/8"
This eve foam interlocking floor tiles are a more versatile cheapest patio flooring option with multifunctional features and beautiful design patterns to choose from.
The foam tiles have a comfort layer that provides a comfortable feel underfoot and water, heat, and noise resistance as well.
To clean and maintain them for a long lifespan you can easily wipe, vacuum, or rinse it tiles.
Interlocking pattern tiles are easy to install and the puzzle piece design allows you to customize and place them in any space.
It is more suitable for both high and low-foot traffic patios.
Not only on a patio, but you can also install this flooring in a bathroom, kitchen, and other outdoor areas.
Pros
Simple installation and storage due to interlocking pattern
Multiple designs options with different colors
Tiles are flexible and shock absorbing; so they can handle high foot traffic
It provides the appearance of expensive and beautiful flooring at a low cost
Cons
Too slippery to use as a play mat (Top critical review)
Grassy Look
4. Golden Moon Artificial Grass Interlocking Tiles
Tiles Size: 30cm x 30cm
If you don't have a lush green yard with natural grass in your home then these golden moon artificial grass tiles can make your patio like a garden.
No worry about watering and cutting you only need to sweep and wash by hose.
With the realistic grass look, these tiles can be used for any outdoor surface and in any climate. The waterproofing feature eliminates the rain and snow effects.
Further, it can absorb the noise, pressure, and shock that make it a multi-functional outdoor flooring option.
Pros
It has drainage holes in the backside to leak the rainwater.
More suitable for patio, lawn, and garden.
Made with high-quality polypropylene.
Cons
Lifespan is not too long, you need to replace it after 5 to 6 years for outdoor use.
Best Carpet
5. iCustomRug Outdoor Carpet with Marine Backing
In the outdoor carpets category, I have found the iCustomRug carpet with marine backing as the cheapest patio flooring option.
It is one of the best outdoor carpets with easy cleaning and maintenance. You just need to hose it off and let it dry.
However, outdoor carpets are usually difficult to maintain.
The acids, alkalis, and salts can't damage the surface because of high-quality synthetic material.
With easy installation, you can install it by yourself within a few minutes.
Pros
It can be used for both indoor and outdoor surfaces like patios, decks, sunrooms, and boats.
More durable than other patio carpets.
The color and texture both are amazing (Said by a Buyer).
Cons
The color shade may vary from advertisement.
A little bit difficult to maintain as an outdoor carpet.
Best Tiles
6. Pure Garden Patio and Deck Tiles
Tiles size: Length 12 inches X Width 12 inches
This cheapest patio flooring has a set of 6 interlocking tiles that allows you to install them easily without using any tool.
To make them enough durable to resist fading and rain damage they have used high-quality wood and plastic in their composition.
One square of 6 interlocking tiles can cover an area of 5.8 square feet. So, these tiles can be used on patios, around the pool, and on the balconies as well.
Pros
Easy to assemble; 6 tiles are snapped together
Great for the areas with direct sunlight
Water and moisture resistant
Uncrackable; It can bear heavy foot traffic
Cons
Extreme artificial appearance
7. Rubber Pavers
Rubber pavers are known as one of the most comfortable patio floorings. They look like brick and stone but actually, they are made of rubber.
A home with children and pets always needs safe and comfortable patio flooring. They are slip-resistant when getting wet. So, there are no chances of slips and falls accidents.
Lastly, they are more affordable than other hard material patio floorings.
Pros
Easy to install and easy to clean as well
Cons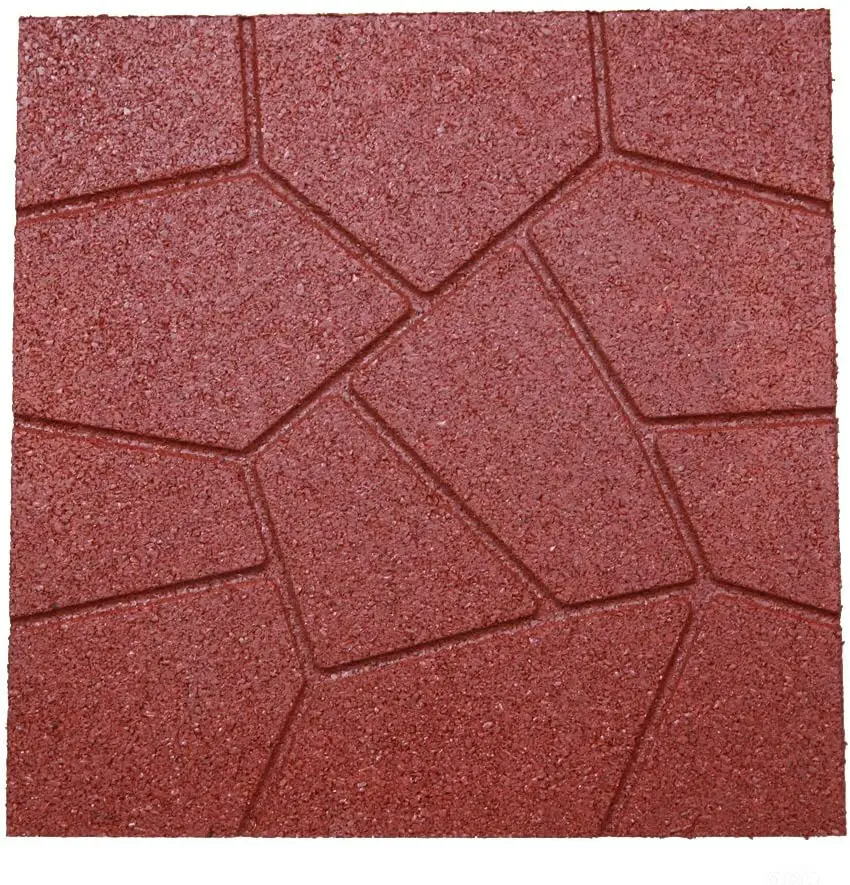 Buying Guide
Things you have to look at while picking the cheapest patio flooring:
Should be Water-resistant
A patio flooring should be water and moisture-resistant because not every patio has a ceiling. So in rainy weather, the floor surface can't be damaged by the heavy rainwater and moisture.
Also in winter the heavy snowfall usually damaged the patio floorings because they are outside.
If you pick a patio flooring with a water-resistant feature you won't face these water and moisture issues.
Furthermore, a patio next to a water play area or pool also required water-resistant flooring.
Should be Easy to Install
If you install patio flooring by yourself, you can save a lot of money that you have to spend in the form of installation costs.
So you have to consider patio flooring with easy installation.
Most of the patio floorings I have mentioned in the above list are easy to install without using extra tools.
Heat-Resistant
As I told you not every patio has a ceiling, so the floor surface has to face direct sunlight with high heat that can damage its look badly.
But a patio flooring with a heat-resistant feature can't be damaged by direct sunlight and won't get fade.
So, this is also a considerable thing when selecting the cheapest patio flooring.
Pick the accurate size
You have to measure the size of your patio. Measure both length and width.
After that, you have to determine how much area you need to cover. And then you will decide the number of pieces of your selected flooring material.
The number of pieces depends on the size of each piece.
Consider Your Surface
What type of floor surface you already have on your patio will decide what will you choose. Suppose you already have a hardwood floor surface on your patio then you don't install another hardwood floor on it.
First, you have to remove the existing one.
So always consider what type of surface you are going to install new flooring.
Also, the surface should be stable, avoid installing a floor on an unstable or broken surface. It can badly damage the new one and you won't get the best results.
Conclusion
No matter what type of patio flooring you're looking for, you'll be sure to find a material that fits your budget and aesthetic preferences. While some materials may be more expensive than others upfront, their long-term durability can make them the most cost-effective choice in the long run.
Be sure to assess your outdoor environment before picking out a material for your patio flooring so you can get something that meets both practical and aesthetic needs.
---
FAQs
Can I use wood planks as a patio flooring option?
Yes, you can. Because the wood planks have all the qualities a patio flooring should have. They are water-resistant, long-lasting, suitable for high foot traffic, and easy to clean.
What is the most economical patio floor?
Concrete flooring is considered the most economical patio flooring because it comes in more versatility and durability and is long-lasting. Moreover, it is the cheapest patio flooring option as well.
Is vinyl flooring suitable for outdoors?
Vinyl flooring is not a good choice to install as an outdoor floor. It is not temperature resistant so in extreme temperatures, it can crack and swell. Moreover, it can't be resistant to heavy rain for a long duration.
How long will laminate flooring last outside?
No doubt laminate flooring is an ideal pick for a home because it looks like hardwood flooring that increases the beauty of your home. But unfortunately, for outdoor flooring, it is not an ideal pick. Because they can't resist severe weather conditions like real hardwood. So, if you are thinking to install it as a patio floor it can last only for 5 to 10 years with proper care and maintenance.
Related Topic: Vinyl vs Laminate Flooring Pros and Cons: Ultimate Guide