Small accidents happen to pets because, after all, they are innocent animals. So it's up to you to have the right product to restore peace.
Pets are like a family member in a home so as a true friend you have to take care of their safety while cleaning your home with the different pet carpet cleaner sprays. Because most of the cleaner sprays include harsh chemicals.
So, it is hard to find the safest and best pet carpet cleaner spray.
But you must need this as well because cleaning your home from pet odor and stains should be your main priority.
That's why to facilitate you we've found the 6 best pet carpet cleaner sprays that can overcome your headache of cleaning the pet places.
You will get also a detailed buying guide to buying the best pet carpet spray. Because as a buyer you may not know the things you should know before buying.
So, you have to read the guide before buying.
Eventually, the decision will be yours.
But wait!
If you are in a hurry and don't want to read the complete article, you should choose Rocco and Roxie's professional pet odor and stain remover which is our top pick.
Our Top Pick
With the professional-strength bio-enzymatic formula this stain and odor eliminator is the most trusted and best product to choose from.
It efficiently works to remove odor and stains of pet urine, any organic stain, vomit, feces, and gross stuff.
Most importantly this product is completely safe for children and pets.
The thing that makes it our best pick is certified by the Carpet and rug institute. So, it is safer and more effective for all types of carpet surfaces.
Actually not only for carpets but also you can use it on concrete, tile, hardwood, laminate, and all other types of hard floor surfaces.
To remove surface stains you simply need to apply enough amount of solution to the affected area. Wait for 30 to 60 minutes and then blot with a cloth and let it dry.
To remove the deep odor you have to soak the stain, let it sit for an hour at least, cover it with a piece of cloth or towel, and vacuum the treated area.
Pros
Highly safe for children and pets
Stain and odor eliminator
Chlorine-free and color-safe
Certified from carpet and rug institute
Suitable for all types of carpets and hard floor surfaces
Cons
Takes a little bit more time after applying on the pet's pee and urine stains
What Is It?
Pet carpet cleaner spray is a specialized type of cleaning product designed specifically for dealing with pet messes such as urine, vomit, and other body fluids.
It is designed to be effective at removing these messes from carpets and upholstery without damaging the fabric or fibers, while also neutralizing odors. It usually comes in a spray bottle for easy application.
What Are the Benefits?
The main benefit of using pet carpet cleaner spray is that it can make cleaning up after your pet much easier and faster.
Many traditional cleaning products are not designed for use on carpets or upholstery, but this specialized product makes the job easy by providing an effective solution specifically tailored to these surfaces.
Additionally, most pet carpet cleaner sprays contain special enzymes which break down stains quickly and effectively without leaving any residue behind.
How Do I Use It?
Using pet carpet cleaner spray is easy and straightforward. Simply spray the affected area until it is completely covered. Allow the product to sit for up to 10 minutes, then use a cloth or scrubbing brush to gently work it into the fabric.
Blot away any excess moisture with an absorbent cloth, then allow the fabric to air dry. For best results, you may want to repeat this process several times, depending on how heavily soiled the surface is.
Buying Guide
What to look at while buying the best pet carpet cleaner spray:
Should be Safe for Pets and children
It should be your top priority to keep your loved ones safe. But there are multiple liquid cleaners with harsh chemicals. It is hard to find a safer liquid cleaner spray as well.
Chemicals could be on the floor surface even after drying because the mini drops of chemicals remain on the surface and couldn't dry easily.
Chemicals are extremely harmful to both children and pets. Whenever they enter or contact your body they will damage.
So, you have to choose a cleaner spray with less amount of harsh chemicals or a chemical-free that will be safer for your children and pets.
Should be Safe for Surface
There are some floors with sensitive surfaces like sensitive carpets, laminate, and wood. Cleaners with harsh chemical formulas can damage these floor surfaces.
To keep safe your floor from damage you should choose a spray cleaner with less amount of harsh chemicals or free from harsh chemicals.
Still, you can use a cleaning spray that has chemicals but in a little amount. So, they can't damage the floor surface.
Multiple Usages
To save your money and time from buying different types of spray cleaners for each purpose, choose a spray cleaner that can be used for multiple purposes.
You may not have the same floor in the entire home.
You may have hardwood floor surfaces in the kitchen, carpets in the living rooms, and laminate in the hallways. So the surfaces could be different.
Some spray cleaners are suitable for a specific floor surface. So, they won't be applicable anywhere in your home.
Moreover, the spray cleaner is not only for floor surfaces but can be used to clean the bed, sofas, and pet's living areas as well.
So, you should choose a spray cleaner that can be used for multiple cleaning purposes.
Stain Removing
Stain removal is the simplest thing a spray cleaner can do. But there are many spray cleaners that can't even remove the stain efficiently.
You need to understand the difference between dust, grime, and stains.
Every spray cleaner or liquid cleaner can remove the dust and grime but not every spray cleaner can remove the stains as well.
Because removing the old stains sometimes needs multiple cleaning processes. Stains of pet urine on the carpet won't be cleaned with normal cleaner.
So the normal spray cleaners may be not able to remove them easily.
That's why you should a spray cleaner that easily removes the stains in a single clean.
Odor Removing
Pet odor that usually caused by bacteria and yeast metabolizing secretions. Whenever they get wet and set anywhere in the home, they spread odor.
Moreover, the urine and pee of pets not only leave stains but also spread a bad odor in the home.
So, you have to choose an odor-removing spray cleaner that can easily and effectively remove all types of pet odors in the home.
Scent
The scent is an additional thing that every spray cleaner doesn't have. The scent directly refers to the odor-removing feature of a spray cleaner.
Because when a spray cleaner removes the pet's odor, it also leaves a fragrance.
Many people prefer the spray cleaner with a decent scent fragrance. So you can consider it as well.
Let's restart the countdown!
Specially created to eliminate the toughest stains and odors with a ready-to-use formula. You simply need to apply it anywhere you want to get results.
No matter what type of mess it is, it can effectively deal with heavy pet pee stains, and pet urine stains anywhere.
Safer and suitable to use on all types of surfaces such as carpets and on hard floor surfaces such as wood, tile, ceramic, marble, laminate, etc.
Moreover, it is free from harsh chemicals making it safer for both children and pets.
The amazing scent leaves a fresh-smelling home after every use. It can be used for multiple purposes as well like in the kitchen, bathrooms, countertops, and couches.
Pros
Long-lasting, continuous cleaning up to 80 hours after applying it
Leaves fresh and clean scent for a long time
Strong and effective stain-cleaning formula
Free from harsh chemicals
Safe to use on all types of floors
Cons
Could not be applied on the pet's body directly to remove odor or stains
If you want to remove a variety of the toughest stains immediately and permanently, the Resolve professional strength spot and stain cleaner are here to solve your problem.
This product works effectively on every type of stain such as pet urine and pee, coffee, mud, dirt, cola, food grease, and all other types of hard clean stains on your carpet.
Actually, not only works on carpet but it works great on all other types of hard floor surfaces as well.
The odor of pet urine and pee definitely bothers you.
Isn't?
So, with the odor-eliminating power, it removes the hard-to-bear odor as well.
Pros
Can be used for multiple purposes
Deep and effective cleaning
Safe for a home environment
Free from extremely harsh chemicals
Suitable for all types of surfaces
Removes the stains and odor permanently
Cons
Can't mix up with other household products
Sometimes while cleaning the hard stains with a spray cleaner you want to control the releasing amount of solution.
So, this simple solution of extreme pet stain and odor remover is here with three different ways to release the solution. Foam, stream, and mist.
It is specifically formulated to eliminate the hard, deep stains and odors of pet urine, feces, and vomit. You can use it in all areas where pets are living or spend most of their time.
Usually, the carpets get more damage from the pet's urine and pee which leaves a deep stain and odor as well.
So you need to apply the spray immediately and you'll see it effectively removes both stain and odor.
Pros
Safe to use around your family
Best for all types of stain-removing purposes
Leaves the surface clean and fresh-smelling
The urine and feces of pets not only spread the bad odor and hard stains on a carpet but also spread bacteria.
How do you feel if you get a product that can remove the stains, and odor but also quality to sanitize your carpet surface and kill 99.9% of germs?
So the Woolite advanced pet stain and odor remover has the extra quality of sanitizing any type of floor surface.
On a daily basis, you can use it to clean every type of stain, or odor on carpets, and other hard floor surfaces.
Also, it is best to clean the pets' living area and pet furniture
Pros
Removes the tough pet stain and odor permanently
Safer for the environment and floor surfaces as well, especially for carpets
Cons
The product is good but has weird construction: said to a reviewer
As a pet lover, you should think about your pet's safety whenever you bring a household product, especially when you buy a pet cleaner spray.
So, to keep safe your pet you should choose the Bissell pet stain and odor remover spray.
Because it kills 99.9% of bacteria as well while cleaning a surface of tough stains and odor. The tough stains left by the pet's urine and feces also have bacteria.
Not only it can be used on carpets but also on other hard floor surfaces, beds, sofas, furniture, and pets' sleeping areas.
You will get a stain-free, odor-free, and germ-free surface after using it.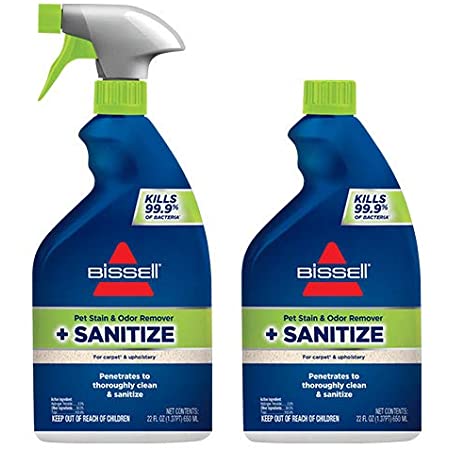 Pros
Sanitize the surface from germs
Safer as a household product
Multi-purpose spray cleaner
It can easily remove two or three days old hard stains in one clean
Eliminates every type of odor
Cons
May not eliminate the one-week-old stain in a single clean, you need to clean it twice
7. Hoover Paws & Claws Deep Cleaning Carpet Shampoo
With stain guard technology, this product protects your carpet against all types of stains, especially pet stains. It can be used to remove all types of pet mess like pet urine, feces, vomit, etc.
Moreover, it also works well on mud stains. It can neutralize odors and provide deep and enzymatic cleaning.
Pros
Enzymatic cleaning ingredients
Enhanced cleaning performance
Cons
Doesn't remove the smell completely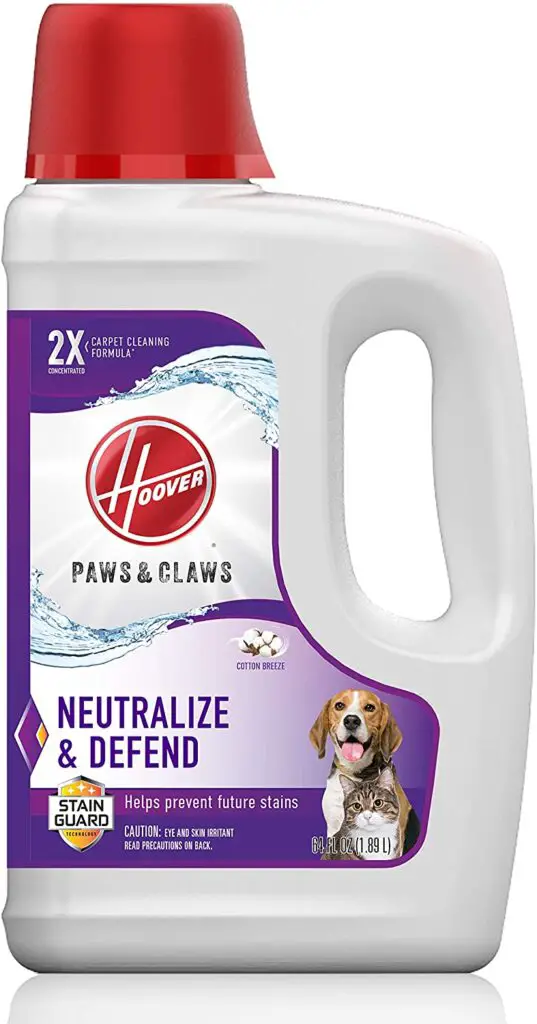 8. Nature's Miracle Carpet Shampoo
"Nature's Miracle Carpet Shampoo, Deep-Cleaning Stain and Odor Remover is a concentrated enzyme-based formula that works to eliminate tough stains and odors.
Use your steam cleaner or carpet shampooer to achieve superior results. Safe for use around pets when used as directed.
Pros
Extract odors and allergens
Bio-enzymatic odor-locking technology
Cons
Not safe for pets until it completely dries out
Smells nice but not strong enough (Review)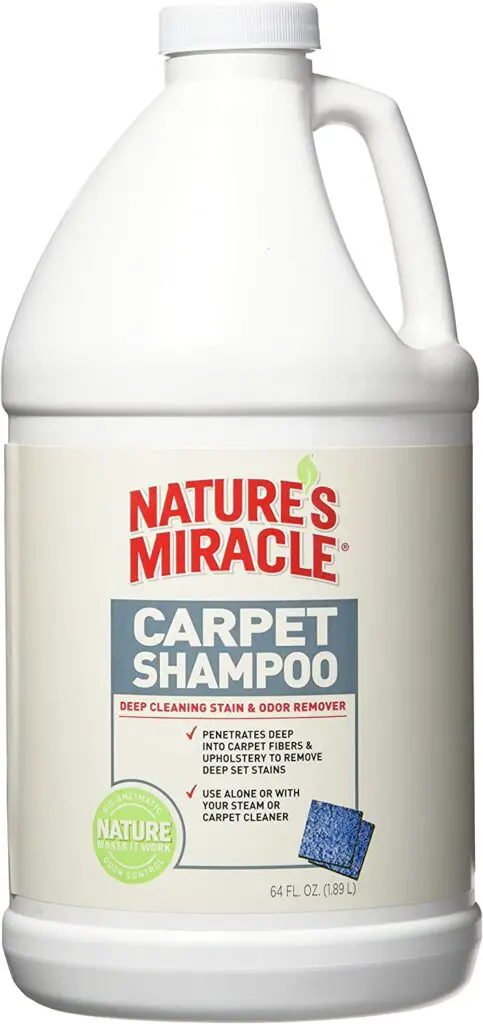 Arm & Hammer's Pet Fresh Carpet Odor Eliminator is specifically designed to tackle stubborn pet odors trapped in your carpets. Utilizing the deodorizing power of baking soda, it neutralizes even the toughest odors, leaving your home smelling fresh and clean.
Moreover, the product contains pet hair release agents, which help lift and remove stubborn pet hair embedded in your carpet. It's also a breeze to use; simply sprinkle the powder on your carpet, let it sit for 15-20 minutes, and then vacuum.
This product is ideal for households with pets and proves to be an effective and safe solution to maintain a clean and odor-free environment.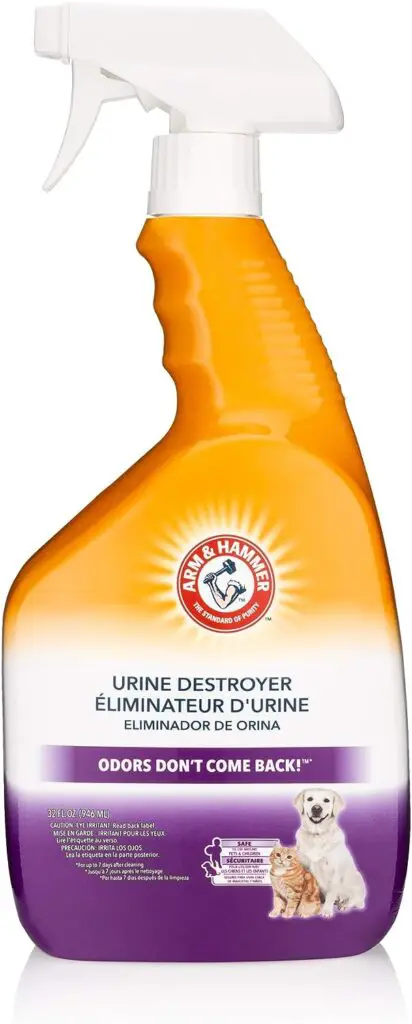 Pros
Effectively eliminates pet odors
Contains pet hair, release agents
Cons:
May not work on older or set-in stains
The scent may be too strong for some individuals
Wrap Up on the Best Pet Carpet Cleaner Spray
No matter how deep is the stain and how bad is pet's urine odor. You have the 6 best carpet cleaner sprays. Simply choose the better one and get effective results
The main purpose of this article is to help you to select the best without getting bothered.
Pet carpet cleaner spray can be a great solution for keeping carpets and upholstery clean in homes with pets. It's easy to use and effective at removing most messes quickly without leaving behind any residue or odors.
With regular use, you can keep your carpets and furniture looking and smelling great.
With this guide, you now have the information needed to select and use a pet carpet cleaner spray in your home.
With a bit of practice and patience, you'll be able to easily tackle pet messes on carpet or upholstery without any issues. And who knows? With enough practice, it could even become one of your favorite cleaning tasks!
Related Topic: 7 Top Pet Proof Carpet Reviews: Ultimate Buying Guide
---
FAQs
Is the spray cleaner safer for sensitive carpet surfaces?
Yes, the spray cleaner is completely safe for all types of sensitive carpet surfaces. It will only remove the stain and odor without damaging the carpet fabric and color as well.
Can I use the spray cleaner directly on the pet's body?
Never, you can't use it directly on the pet's body because the pet's body is more sensitive than any other surface. So, it can highly damage the body. Don't even try!