If you want to pick a waterproof subfloor material, this would be one of the most accurate decisions of your life. Because a subfloor that is not waterproof and can't even resist moisture can destroy your surface flooring.
A flooring system is one of the most important structures of a home or any other commercial building. Because it is not just about how it looks, but also the floor is responsible for carrying the weight of people, furniture, walls, and other heavyweight home appliances.
Selecting the wrong flooring material can lead to structural failures.
So, keep reading to know about the best waterproof subfloor materials, you have safely reached the right spot.
Because in this ultimate guide I am gonna tell you the top waterproofing materials for subflooring.
Advantages of Waterproof Subfloor Material
Protect Surface Flooring from Water Damage
Most importantly a waterproof subfloor material can protect a surface floor from heavy water or moisture damage.
Water leakage or moisture is one of the most common damage that almost every floor has to face whether it can be a surface floor or a subfloor. Because water can damage a flooring material made from pure wood, wood sheets, or other plastic sheet material.
On the surface, you can eliminate the water and moisture whenever you see them. It is simple, you just pick a mop and remove it. That's all you need to get rid of water and moisture.
But what if the floor is damaged by the moisture from below?
This would be not simple to get rid of it.
So, to protect your floor from the bottom side you need to install a waterproof subfloor material that will protect the surface floor from unseen moisture and water damage.
Surface Floor Stability
The subfloor also provides stability to the surface floor leading to handling the high foot traffic, and heavy furniture movement on it.
To feel comfortable underfoot while walking on the main floor you should install a subfloor or underlayment.
Makes Surface Floor More Durable
A waterproof subfloor increases the durability of the surface floor as well. That means the surface floor will stand up to the wear and tear in your home in the coming years.
Moreover, you won't need to replace both ( surface floor and subfloor) for multiple years. They can last up to 15 to 20 years at least.
However, routine maintenance and cleaning are required.
Best Waterproof Subfloor Materials
Plywood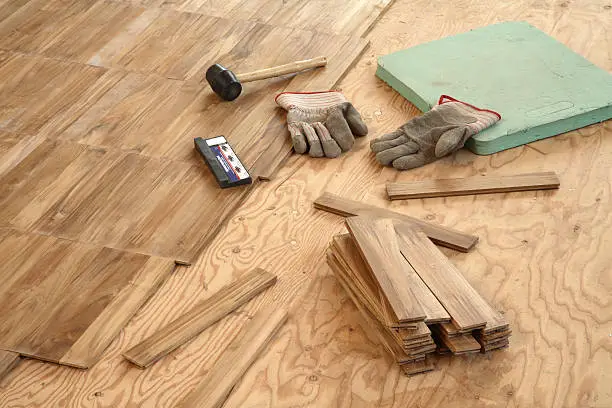 It won't be wrong if I say that plywood is probably one of the most commonly used floorings, especially since it is more popular in home sub floorings.
As Statista shows that plywood and engineered wood products manufacturing amount in the United States will hit 300 billion dollars by 2024.
Plywood is manufactured by fabricated sheets of wood veneer that are more water-resistant than any other subflooring material. To bond them together they have used high-quality adhesives under required heat and pressure.
This subflooring is free from expansion and contraction because it is solid.
To provide secure and stable base plywood has interlocking sheets. You can install any type of surface flooring on it like hardwood, laminate, vinyl, and more.
To keep safe it from unnecessary movement and squeaking, you need to apply subfloor adhesive to the floor joists.
Subflooring damaged by water is a common issue but the thing that makes plywood the best subfloor material, it can dry out faster after getting wet. So it won't damage the surface flooring soon with water. And you won't find moisture on the surface floor.
Once you installed it, you won't need to replace it soon. Because it can last for up to 20 years.
Moreover, Plywood is the best waterproof subfloor material for bathrooms.
How to Waterproof a Plywood Subfloor?
A plywood subfloor is an essential component of any home, providing a sturdy foundation for flooring and furniture. However, plywood is a porous material that can be damaged by water, leading to warping and rot.
As a result, it is important to take steps to waterproof a plywood subfloor before installation. There are a number of different methods that can be used to achieve this, including:
1. Applying a coat of sealant: This is a simple and effective way to waterproof a plywood subfloor, and it can be done prior to installation. A sealant will create a barrier that will prevent water from penetrating the surface of the plywood.
2. Using sheet membranes: Sheet membranes are thin sheets of material that can be laid over the surface of the plywood. They are often used in conjunction with a sealant or coating, and they provide an extra layer of protection against moisture.
3. Installing a drain system: This is typically only necessary if the plywood subfloor will be exposed to large amounts of water, such as in a bathroom or laundry room. A drain system will allow water to escape while preventing it from seeping into the plywood.
4. Covering the plywood with vinyl: Vinyl is an impermeable material that can be used to cover the entire surface of the plywood subfloor. This method is often used in areas where there is a high risk of water damage, such as in kitchens and bathrooms.
5. Replacing wet plywood: In some cases, it may be necessary to remove wet or damaged plywood and replace it with new material. This should only be done by a qualified contractor, as it requires special tools and knowledge. By taking these steps, you can help to ensure that your plywood subfloor lasts for years to come.
How to Stop a Plywood Floor From Rotting?
To prevent a plywood floor from rotting, it is important to keep the wood dry and free of mold and mildew.
One way to do this is to seal the wood with a waterproof sealant. This will create a barrier that will prevent moisture from seeping into the wood, which can cause rot.
Additionally, it is important to clean up any spills promptly and to regularly mop the floor in order to remove any dirt or debris that could hold moisture against the wood.
If the plywood is exposed to sunlight, it is important to apply a UV-resistant finish in order to protect the wood from fading and damage. By taking these precautions, you can help to ensure that your plywood floor will last for many years.
OSB (Oriented Strand Board)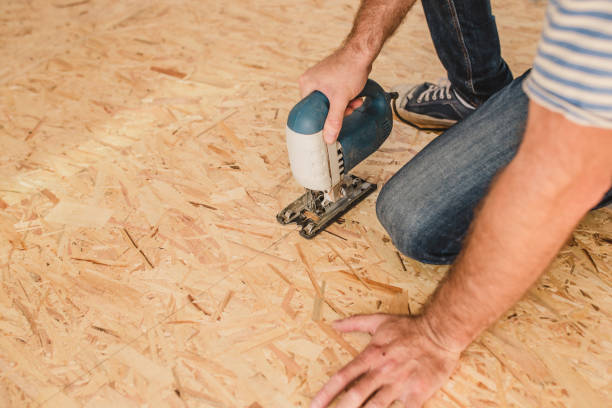 OSB is less expensive than plywood and is made with 3 to 4 inches of wood strands layering in a crossing pattern. To make them more durable and less water absorber they have glued and pressed them.
Both plywood and OSB absorb a little amount of water because they've made of wood and wood is naturally a good water absorber.
But the good news is both can dry out faster so they won't get damaged by water and moisture.
If we do a comparison between them, OSB absorbs less amount of water than plywood while the plywood dries faster than OSB.
So, we can say both are good competitors with different qualities.
You'll be surprised to know that OSB has almost 50 layers into a single sheet with the same thickness as plywood. That makes it more structurally consistent than plywood.
Cork Flooring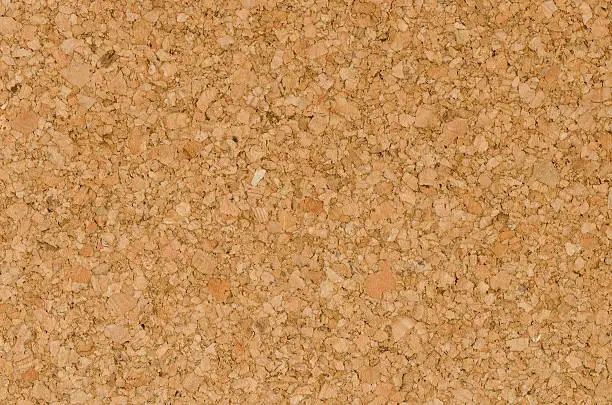 Cork flooring is another decent subflooring option with different textures and patterns. Using cork panels and tiles as a subfloor will provide multiple benefits like durability, water or moisture resistance, cushioning, and more.
While researching to find out the best waterproof subfloor material I've determined one thing cork flooring is often used as a surface flooring option.
But some professionals highly recommended it for subflooring.
And the reason is, that it has all the qualities that a subfloor should have. Also, it can be affordable.
Wood Planks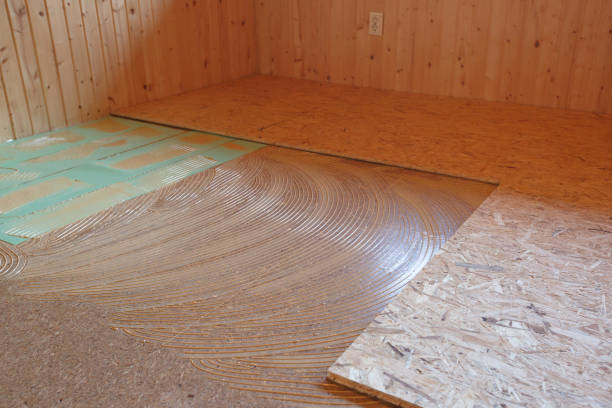 Wood planks were a great subflooring option in the mid of twentieth century. But over time new options were introduced and they take their place.
And in present wood planks are replaced by plywood subflooring material and sheet subflooring materials like cork.
Wood planks are made of softwood that is nailed to wood joists. But the problem was they tend to loosen over time and lead to floor squeaking,
Still, they are used in many homes as subfloors because most importantly they are more durable and long-lasting.
Further, they can be repaired easily. So, you don't need to replace it even after 20 years after installation until it gets badly damaged by natural disasters like floods.
Concrete Flooring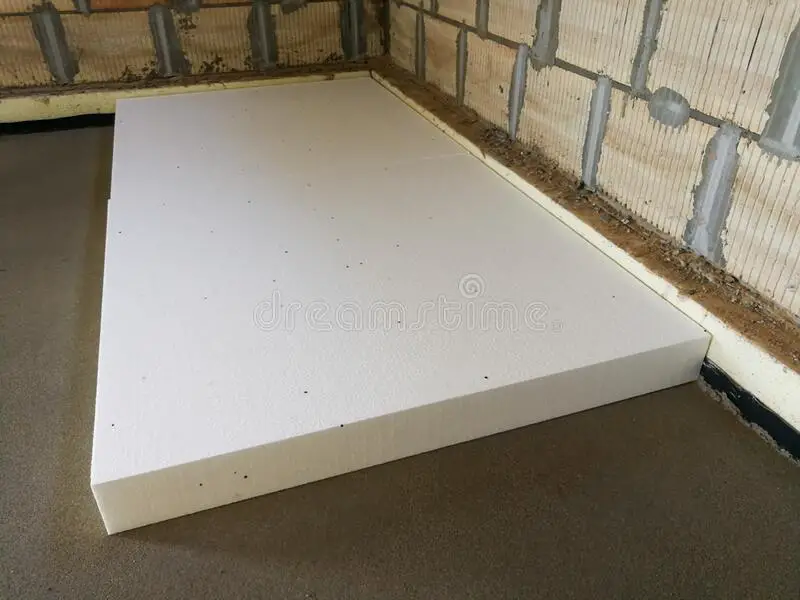 Concrete subfloors are solid, hard, and more durable. Any type of flooring can be installed on it, especially tile and stone flooring. because it is smooth and more stable than others.
It is completely waterproof and never absorbs water and moisture so it does not require additional underlayments or moisture barriers.
It has a long lifespan because it will never get damaged by water and moisture at all. So may you don't need to replace it for up to 40 to 50 years.
Subflooring Panels
High-performance panels are getting more popular day by day for home and commercial building flooring, especially as subflooring.
One of the most attractive things about these panels, they offer the same benefits as plywood and OSB but with some additional features.
They absorb less amount of water so they do not create floor swelling that is common in plywood and OSB sub floorings. With the high density and resin technology, they are more durable and stronger.
These high-performance panels are available in different thickness levels like 1-1/8 inches, 1 inch, 7/8 inches, 19/23 inches, and 23/32 inches thickness.
Image Sources: www.istockphoto.com, www.dreamstime.com
Related Topic: Is Bamboo Flooring Waterproof Or Not?
Major Flooring Layers
Joists
Parallel series of structural members to joint beams and load-bearing walls that can hold the floor is known as joists. Floor load joists are available in different sizes between 2×8 to 2x12s.
Often people mixed up joists with beams. Actually, a beam is the main load-bearing structure of a roof. While the joist has a horizontal structure that is supported by a beam.
Subfloor
A structure attached to the floor joists and providing support to the surface flooring is called a subfloor. The major purpose of subflooring is to protect surface flooring from inner damage.
Water and moisture both are common reasons that damage the surface flooring from the bottom.
However, a subfloor also provides a stable surface and helps to handle heavy foot traffic, heavy furniture, heavy home appliances, and more.
Underlayment
You may be confused between the underlayment and a subfloor because most people are. Both have the same purpose which is to protect surface flooring.
But technically both are different because the subfloor is a structural part of a home that provides support for the main floor. While the underlayment is a covering to protect the main floor from moisture.
Also, underlayment provides comfort feel underfoot, on a flat surface and helps to soundproof a surface floor.
Surface Floor
The surface floor is the main floor that is visible and where you walk. This is the final fourth layer of a floor that has subflooring and underlayment at the bottom.
Related Topic: When to Replace Subfloor from Water Damage: 7 Alarming Signs
In Conclusion
Finally, let's take a look at the best waterproof subfloor material on the market. There are six materials that can provide a waterproof barrier for your flooring and each has its own advantages.
So, what are you waiting for? Go out and pick the perfect one for your home. But wait! Before you go, be sure to leave your thoughts in the comments section below. We would love to hear from you about which of these materials is your favorite and why.
FAQs
Do I have to nail a subfloor to the joists?
You have to nail a subfloor to joists because if you don't it will lead to instability and squeaking. Also for heavy foot traffic, furniture and other home appliances must need a stable and solid floor surface under the foot.
Do I nail or screw a subfloor?
Nails and screws both can be used to join a subfloor. To use nails you have to pick the correct type. Screwing a subfloor can last for a long time duration but it is a little bit more difficult than nailing.
What can I use to waterproof my subfloor?
Using floor sealant can make a subfloor or even a surface floor waterproof. Because floor sealants are made of bonds and they repel water. So, they provide an extra protective layer. Usually, a floor sealant is best to make a plywood subfloor waterproof.
What is the best material for a bathroom subfloor?
Pressure-treated (3/4″) plywood is considered the best material for bathroom subfloor. Because it is fully waterproof and has the ability to last long in a bathroom environment. So, it is pretty much a better option than other untreated OSB and plywood subfloor materials.
How do you waterproof a bathroom subfloor plywood?
As we mentioned above, floor sealant can be used to make a subfloor waterproof. However, to make waterproof a bathroom subfloor you can also use stain or paint. Because paints are also a mixture of materials that repel water. But you need to apply two to three coats.
Name the best waterproof subfloor plywood.
The more durable plywood sheets with 15 years warranty are bond 710 which come with premium marine-grade technology.