Upgrading your home can be a costly venture. But with a few tricks, you can find cheap flooring that will still make your home look beautiful and up-to-date. Let's explore some options for finding high-quality flooring at an affordable price.
1. Shopping Around For Deals
The best way to find cheap flooring is to shop around and compare prices between different stores. Do some research online and check out big box stores, local hardware stores, and even discount outlets.
Look for sales or special promotions that might offer discounts on flooring materials or the installation process.
Keep in mind that you don't always have to buy brand-new flooring you might be able to find used flooring materials for a fraction of the cost.
2. DIY Installation
If you're willing to put in the time and effort, DIY installation is another great way to save money on your new floors.
By installing the flooring yourself, you can avoid paying hefty labor costs that come with professional installation services.
DIY projects can also provide plenty of satisfaction as you watch your new floors take shape right before your eyes!
3. Reusing Existing Materials
If you're looking for an even cheaper option, consider reusing existing materials from other parts of your home.
For example, if you have wood floorboards in one room that are still in good condition, consider moving them into another room instead of buying entirely new materials. Reusing existing materials is both economical and eco-friendly!
Related Topic: Best Waterproof Subfloor Material: 6 Options
5 Cheap Flooring Options to Consider in Your Home
1. Vinyl Plank Flooring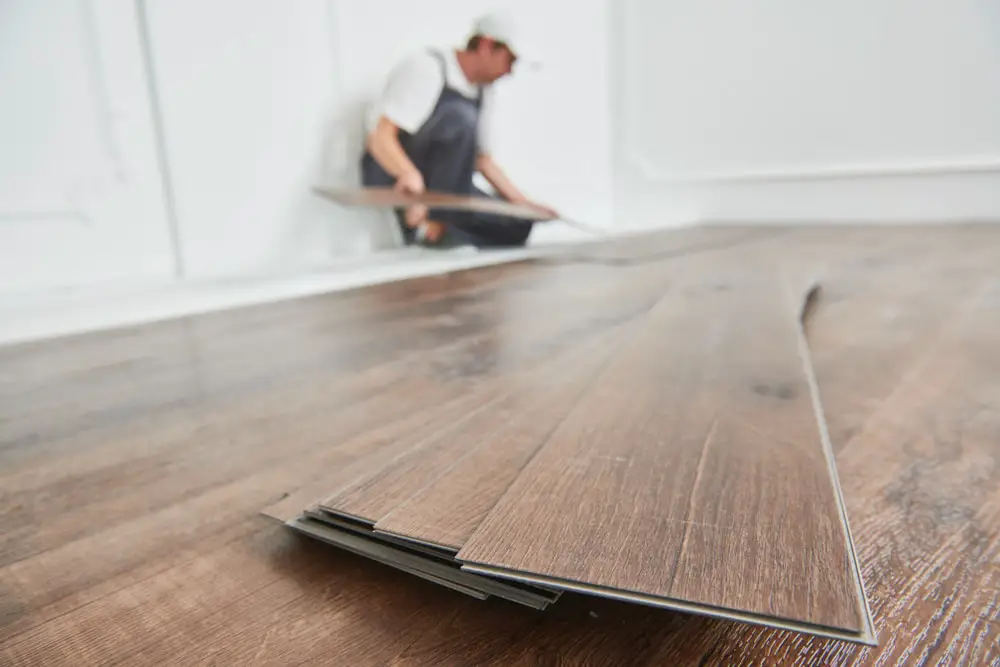 Vinyl plank flooring offers a realistic wood-grain appearance at an affordable price point. It's also waterproof, which makes it ideal for bathrooms, kitchens, and other areas with high levels of moisture.
Additionally, vinyl plank flooring is easy to install and can be done as a DIY project if you're feeling up to the task.
Related Topic: Luxury Vinyl Tile Pros and Cons: Complete Guide
2. Carpet Tiles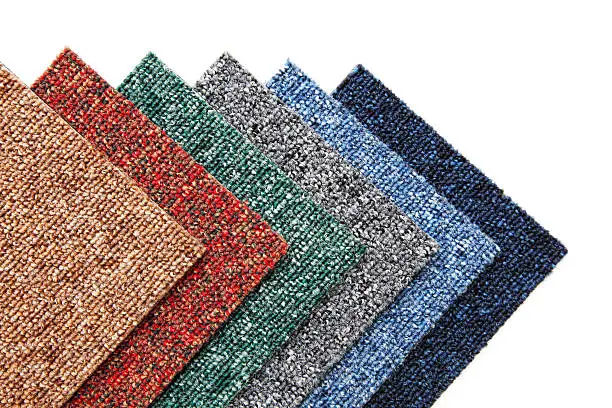 Carpet tiles are a great way to add warmth and comfort to your home without spending all your savings.
Not only do carpet tiles offer superior soundproofing qualities compared to hardwood floors, but they are also relatively inexpensive and come in a variety of colors, patterns, and textures.
Additionally, carpet tiles are easy to install and maintain so they're perfect for busy households.
3. Laminate Flooring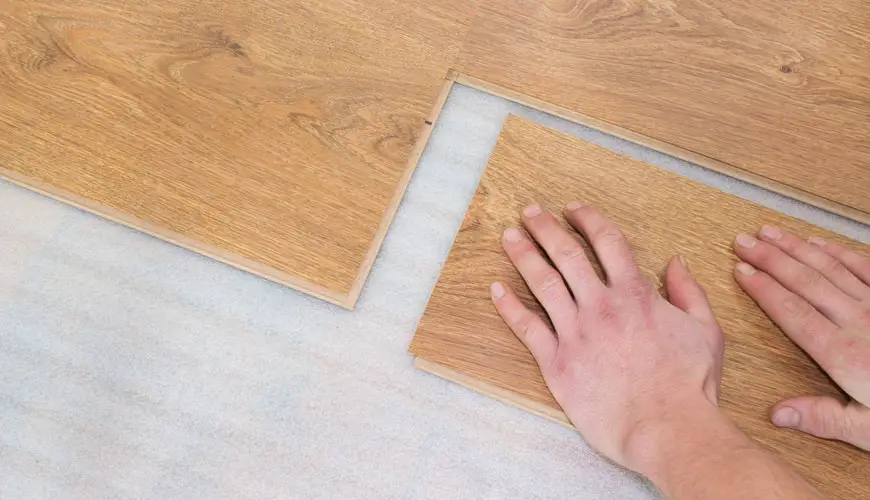 Laminate flooring is another great option if you're looking for something that looks like real wood but costs less than hardwood floors.
Laminate planks are made from multiple layers of synthetic material that provide excellent durability while still being affordable enough to fit into most budgets.
Plus, laminate comes in a wide range of styles and colors so finding something that fits your taste should be easy!
Related Topic: Laminate Flooring With Attached Underlayment Pros and Cons
4. Linoleum Flooring
Linoleum is made from natural materials such as cork dust or linseed oil which makes it eco-friendly and cost-efficient. It also comes in rolls instead of planks meaning that installation is much easier than with other types of flooring such as hardwood or tile.
Linoleum can come in solid colors or patterns depending on what kind of look you want for your home!
5. Polished Concrete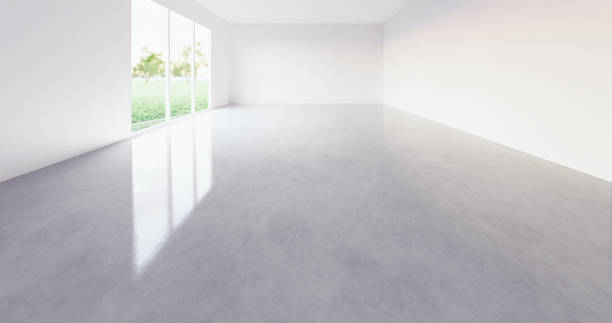 Polished concrete floors are both affordable and aesthetically pleasing. The process involves grinding down the top layer of cement, exposing the stones beneath then coating it with a sealant for protection.
You can choose from numerous colors, as well as add subtle detailing throughout the flooring to create something unique.
Unlike other harder-to-install types of the floor like carpet, hardwood, or tile, polished concrete floors save time on installation and are more cost-effective in terms of upkeep and repair.
Even more, added benefits include resistance to water damage and discoloration, no waxing needed, and improved air quality due to the fact that it is dust-free.
Don't be fooled by its deceivingly simple looks – polished concrete is definitely an amazing option when it comes to flooring solutions.
Conclusion
Finding cheap flooring doesn't have to be difficult all it takes is a bit of savvy shopping and creativity!
From comparing prices between stores to reusing existing materials from other parts of your home, there are plenty of ways for homeowners to upgrade their floors without breaking the bank. So what are you waiting for? Start exploring some options today!
FAQs
What is the easiest flooring to put down?
Oftentimes, when you are looking for new flooring for an area of your home, the ease of installation can come into play. Vinyl plank flooring is definitely one of the easiest to install. This material is a durable and water-proof choice that often comes in interlocking pieces.
It requires no glue or nails and just needs to be carefully cut and fitted around any fixtures or furniture.
Laminate is another option if you are looking for something with a similar look to hardwood. it also requires no adhesive and only needs to be slid into place for a secure fitment.
Both vinyl plank and laminate have minimal joints, making them very easy to put down compared to their hardwood counterparts.
Is it cheaper to do my own flooring?
When it comes to flooring, the cost can quickly increase the level of difficulty. In many cases, hiring a professional is your best option. However, if you're willing to put in the effort and invest your time, doing your own flooring can save you a lot of money.
By understanding what types of flooring options there are and where to get them for an affordable price, you can make a well-informed decision about which route is best for you and your budget.
Of course, if you plan on taking this approach, make sure that you research the installation process thoroughly before beginning any DIY project. If not done correctly, it could potentially be more costly than hiring a professional in the long run.
How much does it cost to install 500 square feet of flooring?
The cost of installing 500 square feet of flooring depends on the type of flooring being installed. Factors such as material, labor costs, and additional services needed can all increase the final price.
Generally speaking, hardwood flooring generally starts around $3 per square foot, while laminate flooring is usually closer to $2 per square foot. If you're looking for something more high-end, marble or ceramic tile installation can start around $4-6 per square foot.
Installation can also be a factor in cost with some contractors charging between $1-$2 per square foot, not including materials. Ultimately, careful shopping and selecting the right contractor for your project can help you save money on 500 square feet of flooring installation.