Many of us love to do workouts at home because a gym in a home has multiple benefits like it saves a lot of time and also a lot of gym expenses. But what about the heavy dumbbells, rods, plates, etc?
Whenever you through them on the surface or even put them a little bit rough, they definitely damage the floor surface. Because they are heavyweight. So, how you can deal with this issue?
The best solution for this problem that I've found is installing a horse stall mat at your gym place!
But how to choose horse stall mats for a home gym is still a problem. That's why I am gonna discuss the 6 best horse stall mats with a complete buying guide.
What is Gym Mats?
A gym mat is one of the most important tools that ensure maximum safety while doing the workout. This does not only protect the floor surface from damage but also protects you from impact injury while footing.
There are multiple mats that are used in a gym like yoga mats, cardio gym mats, weight lifting mats, and other rubber exercise mats.
The purpose of all these mats is to provide a comfortable feel while doing a workout and protect the floor surface from heavily weighted exercise tools.
What are Horse Stall Mats?
Horse stall mats are popular due to their durability and versatility. They are anti-skid floor mats that are generally used in horse stalls and other animal barns to protect their joints and muscles from injuries.
Often, horse stall mats are made of recycled rubber crumbs and EVA foams with high density.
They are more suitable for hard floor surfaces like concrete.
Is a horse stall mat suitable for a home gym?
A home gym needs a tough and hard mat and there is no other gym mat that is harder than a horse stall mat. So, it is a suitable option when you have to do a tough workout at home.
There are multiple reasons that justify why you should pick a horse stall mat for your home gym. Let's talk about it!
Horse Stall Mats vs Gym mats?
When it comes to horse stall mats vs gym mats, there are a few key differences to consider.
Horse stall mats are usually larger and thicker than gym mats, making them better suited for horses that weigh 1,000 pounds or more.
Gym mats, on the other hand, are designed for human use and are typically made from lighter materials.
Another key difference is that horse stall mats are typically made from rubber, while gym mats can be made from a variety of materials, including foam, vinyl, and carpet.
Rubber horse stall mats are the most durable option and can withstand years of heavy use. Foam gym mats are not as durable but are much easier to clean and maintain.
Vinyl and carpet gym mats offer a balance of durability and comfort but can be more expensive than other options.
When choosing between horse stall mats vs gym mats, it is important to consider the specific needs of your horse or horses.
If you have a large horse that is prone to slipping or injuring itself, a rubber horse stall mat is the best option. If you have a smaller horse or pony that does not require as much support, a foam gym mat may be sufficient.
Ultimately, the decision between horse stall mats vs gym mats depends on your own unique needs and preferences.
Horse Stall Mats vs Foam Mats
The major difference between a horse stall mat and a foam mat is its material. A foam mat is soft and excellent for lightweight workouts like yoga. However, it is not an ideal option for heavy weightlifting.
On the other hand, horse stall mats are made of recycled rubber material that is harder and tougher than foam mats. So, a rubber mat is more suitable for every type of gym workout including both lightweight and heavy weightlifting.
Moreover, foam is less durable than rubber. But when it comes to their prices, foam mats are cheaper than rubber mats.
A big issue with a rubber mat is its off-gassing and toxic smell. while a foam mat is free from smell and off-gassing.
Well, this is a little comparison between them. Both have advantages and disadvantages.
But if your concern is only durability, you should go with a rubber mat or horse stall mat.
And if your concern is only softness and comfort, the foam mats are ideal for both.
Types of Horse Stall Mats
Horse stall mats come in a variety of materials, sizes, styles, thicknesses, and densities. The most common options include rubber, foam, and combination mats.
Rubber mats are generally the most durable and offer excellent shock absorption while foam provides softer cushioning for floor exercises. Combination mats combine both materials to provide a more customized feel while still offering good protection.
Buying Guide: Things to Consider
Horse Stall Mats: Features
More-Durable
Horse stall mats are popular in their toughness and durability, especially for large home gym spaces. They don't get damaged with heavy foot and gym equipment movement.
The major reason for their durability is their manufacturing, they are made of heavy-duty recycled rubber. So, they can last for years in a home gym.
Shock Absorbent
For tough workouts and heavy weight lifting, your gym mat should be the shock absorber. Because when you drop a heavy dumbbell or rod even from a few inches height, it will damage the mat and the subfloor as well.
But a horse stall mat has the ability to absorb a heavy weighted dropped dumbbell shock. So, it can not only protect itself but also protect the subfloor from damage.
Slip Resistant
Slips and falls incidents are the major issues of mats. Because when a mat can't resist the water or moisture it leads to a slippery surface. And ultimately bad incidents happen.
So, horse stall mats are fully slip-resistant and have a strong grip on the floor surface. That stops them from unnecessary movement as well.
Best Value
The price of a mat does matter because it must reflect the qualities and features of a mat. So, this is a considerable thing and you should count it.
The horse stall mats have the best value under an affordable budget and they look that way too.
Water-Resistant
Consistent water or moisture can damage a mat easily. Also, they both make a mat surface slippery. However, a horse stall mat can resist a high amount of water and moisture. In other words, you can say they are waterproof.
Warmth & Smooth
Horse stall mats are warm and smooth. So, for winter they are more suitable home gym mats.
Horse Stall Mats: Drawbacks
Bad Smell
The horse stall mats are made of rubber and this off-gassed chemical smell is coming due to this. This is the most popular and common drawback of a horse stall mat.
However, there are multiple methods on the internet to get rid of smelly mats.
For example, take white vinegar and mix it with the same amount of water. Spray the mixture over the mat and after 10 to 15 minutes blot the area with a microfiber head mop.
Hopefully, you will get rid of this toxic smell.
Costly
They are more expensive than other mats like foam gym mats. And the reason for this high price is their toughness and durability. They can last for many years. So, you have to spend money once and you won't need to replace it at least for 15 to 20 years.
Best Horse Stall Mats for Home Gym
1. Gxmmat Large Exercise Mat
If you are looking for a home gym mat that can be used for multiple workouts, this gxmmat large exercise mat will be a great option. This is suitable for all types of floor surfaces and workouts like cardio workouts, dance workouts, jumping rope, sit-ups, stretching, and heavy weightlifting.
If you like to do a workout while wearing shoes, you can without any hassle because they won't get damaged by your shoes due to their toughness.
To enhance traction and grip on the subfloor surface it has a double-sided nonskid surface that prevents it from unnecessary movement.
Moreover, the subtly textured surface stops hands and feet from slipping out of a specific workout position. So, you won't get injuries while doing a workout on it.
Pros
Cons
Not suitable for yoga due to hardness
2. DWC Rubber Mat for Gym Flooring
If you want to pick a harder and tougher horse stall mat for your home gym, you can pick this DWC rubber mat. It is ultra-durable because it is made of recycled rubber tires.
It can last for at least up to 20 years in a home gym.
Moreover, it is also known as the heaviest-duty horse stall mat with a non-slip smooth surface.
Pros
Stable on subfloor surface
Best for heavy weightlifting
Easy to Install and Clean
Cons
Not suitable for rope jumping
3. Rubber-Cal "Diamond Plate Rubber Rolls
This rubber gym flooring mat is specifically designed to provide extreme underfoot grip and protection. It is made of styrene-butadiene rubber that provides plenty of friction with excellent rubber flooring.
The diamond-patterned protrusion texture provides a safer surface to walk on and reduces slips and fall accidents.
Moreover, this is a tough and cost-effective synthetic rubber mat that provides resistance to abrasion, moisture/water, and impacts.
Pros
High durability with tough protection
Easy maintenance and cleaning
Available in various custom-cut lengths
Cons
You may need to do heavy scrubbing to clean dirt stains
4. Rubber King All-Purpose Fitness Mat
This mat is known as one of the most versatile and useful items for all purposes like a home gym workout, yoga, dance workout, outdoor gyms, offices, and more.
The interesting thing is it has low odor than other rubber mats which makes it a perfect choice for indoor air quality as well.
Further, it provides a safe, stable, and anti-slip surface. So there are fewer chances of happening slip incidents. An anti-slip backing stops it from moving on a slippery subfloor surface like hardwood or tile.
It also has the ability to protect your subfloor from cracks and scratches.
Pros
Manufactured with 100% recycled rubber
Suitable for both indoor and outdoor usage
Cons
It May get damaged by heavy weightlifting equipment
5. IncStores Heavy Duty Rubber Roll 
This mat is available in a bold color that provides a different look you need in your home gym. Its high-quality rubber material makes it more durable and water/moisture resistant.
You can use it anywhere in your home on any type of flooring. It has an anti-slip backing that stops it from moving on a slippery subfloor surface.
Moreover, it can last for years so you don't need to replace it soon.
If you want to move it from one room to another you simply need to roll it and install it wherever you want in your home.
It is a shock absorber so whenever you drop a dumbbell or rod on it, it won't damage the subfloor surface and won't bounce back.
Pros
Excellent to keep your gym equipment in place
Made with high-quality rubber
Easy to clean and maintain
Cons
Off-gassing in the first few days after installing
6. Rubber-Cal 03_167_W_FR_04 Fine Rib Corrugated Rubber Floor Mats
The last one on our list, but certainly not the least, is the Rubber-Cal Fine Rib Corrugated Rubber Floor Mat. Known for its distinctive fine ribbed design, this mat provides additional grip, making it safe for high-intensity workouts.
The corrugated surface also serves to reduce the impact of heavy gym equipment, effectively preserving your floor's integrity. Made from 100% recycled rubber, it aligns with sustainability principles.
This mat's durability and shock-absorption properties, coupled with its affordable price tag, make it a worthy contender for your home gym flooring solutions.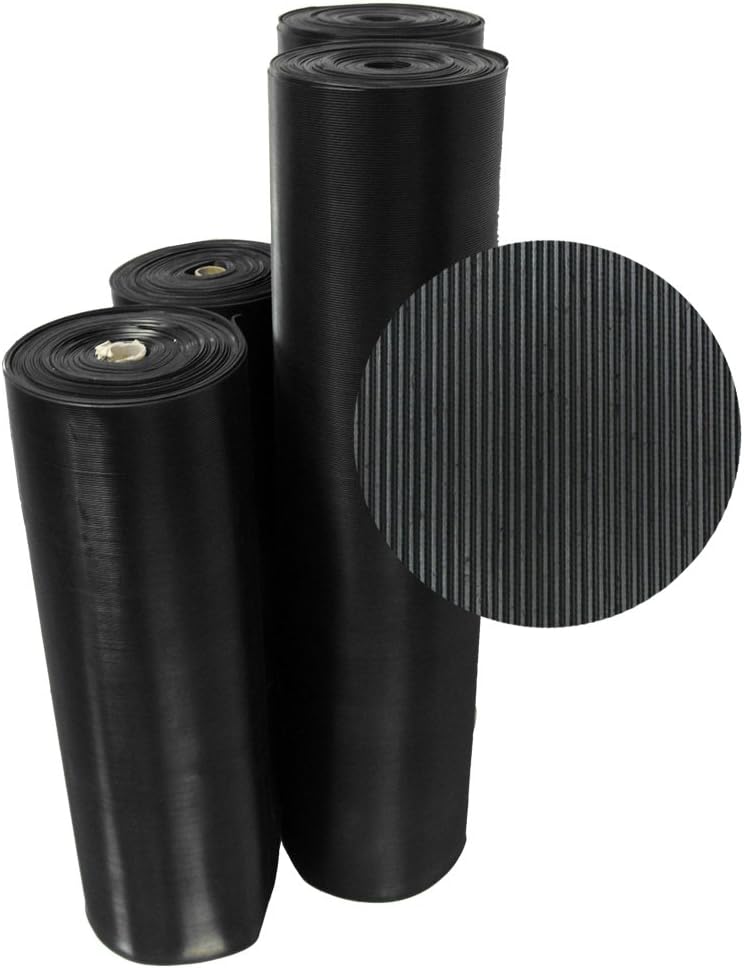 Pros:
High durability and shock-absorption properties
Non-slip grip for safety during workouts
Made from 100% recycled rubber, making it environmentally friendly
Affordable price point compared to other options on the market
Cons:
May have a strong rubber smell initially (which can be remedied by airing out or using a mat cleaner)
Fine ribbed design may not be suitable for all types of workouts (e.g. yoga)
May require additional padding underneath for maximum shock absorption
Wrap up
Horse stall mats for the home gym would be a great option with the highest durability and long life span. However, there are a few drawbacks. But still, rubber mats have more advantages than disadvantages.
For further problems about this topic, you can ask in the comment section.
If you like the content also give your feedback.
Related Topic: Best Commercial Entrance Mats – Top 7 Picks
---
FAQs
Can a rubber mat absorb water?
No, a rubber mat can't absorb the water but resist the water or moisture which is a quality feature. It resists the water and stops it to go inside the material until you remove it with a microfiber head mop or another cleaning mop.
How much does a horse stall mat cost?
You have to spend $50 to $150 to buy a rubber horse stall mat. Actually depending on the thickness of the mat. Moreover, the price may vary with the quality and size of a rubber mat.
Are horse stall mats toxic?
Horse stall mats are purely made of recycled rubber and many toxic chemicals include in their manufacturing. So, yes horse stall mats are toxic.
Related Topic: 9 Best Exercise Mat For Hardwood Floors: Buying Guide